He is a success. She is broken.
He is pure. She is troubled.
He has a loving family. She has no one.
He truly cares for her. She's in love with him.
Problems arise. Sides are declared.
A promise is made. The world collides.
Opposites attract. A bond is formed.
History is there; a chemistry like no other.
He is Kyle. She is Jessi.
Together XY && XX make the inevitable Kessi <33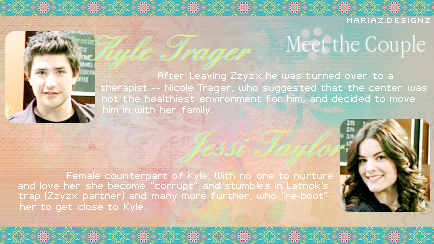 The 411 on XY && XX::
16 years ago Zzyzx started experimenting, testing Einstein theories on human brain growth during the pregnancy; that lengthening the time spent in the "womb" would allow far greater brain growth for the human inside. Four humans contributed their DNA to make super clones --Kyle and Jessi-- who spent their first 16 years in their "pods" and although they are not biologically related they feel a unexplainable connection; with a brain superior to everyone else's, they share the capability of vast super abilities no other humans can. Such as: the ability to retain information and learn quickly; solve complicated problems simply by looking at them; superhuman reflexes; paranormal strength; great endurance-- of extreme cold or extreme hot--come out of fires & explosion, jump of great heights without any harm; enhanced vision (other spectrums) & acute sense of hearing (drown out particular noises); hear heartbeats & predict weather; able to use their brain to change the polarity of cells (healing people); levitate & affect people's movement; control pain & autonomic body systems (breathing & heartbeats); read minds, telepathy, photographic & holographic memory; carry electrical currents; and much, much more...


Edited by xobabiicakesz - 03 April 2009 at 8:38pm