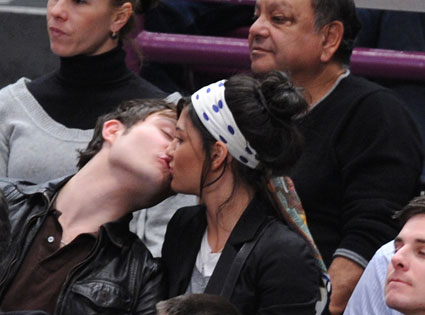 J
Well, it looks like we can stop putting "rumored" in front of "romance" every time we talk about Gossip Girl stars Ed Westwick and Jessica Szohr.
Chuck Bass and Vanessa (it's way less confusing if we refer to them by their G.G. character names) were photographed making out at last night's Lakers-Knicks game at Madison Square Garden, which is awesome because this show could really use more real-life couples, right? We're beginning to believe it's explicitly stated in their contracts "no dating real New York people," and given the choice between Vanessa and Whitney Port, Chuck probably made the right decision.
Cheech Marin had the pleasure of sitting behind the two lovebirds, and he's really slacking on his duties. He should be frantically texting the breaking news to Gossip Girl so Kristen Bell can narrate this.
many of u already know Penn(Dan) n Blake (Serena) r dating..n i luv them..there's another couple
quite shocking..i would love to see them as a couple on GG