Here are some details you need to know before you join in:
Birth name
Destiny Hope Cyrus
Born
November 23, 1992 (1992-11-23) (age 16)
Nashville, Tennessee, U.S.
Origin
Franklin, Tennessee, U.S.
Genre(s)
Pop
Occupation(s)
Singer, actress, songwriter, voiceover
Instrument(s)
Vocals, Guitar
Years active
2003'present
Label(s)
Walt Disney, Hollywood
Associated acts
Billy Ray Cyrus
Trace Cyrus
Jonas Brothers
Disney Channel Stars
Website
MileyCyrus.com
also
Music career
2006
On April 4, 2006, the fourth edition was released in the DisneyMania series. It features various musical artists performing Disney songs. In it, Cyrus made a cover of Zip-a-Dee-Doo-Dah, from 1946 live actionanimated movie Song of the South, originally performed by James Baskett. and
The album became the second highest-peaking album in the series, peaking at #15 on the Billboard and was certified Gold by the RIAA To date, the album has sold over 717,000 copies.
Later, Walt Disney Records released the first Hannah Montana soundtrack, on October 24, 2006. The soundtrack included eight of the songs that Cyrus performed as Hannah Montana, four by other artists and the last on the album is sung by Cyrus (as herself) and her father, Billy Ray Cyrus.
The album debuted at #1 on the U.S. Billboard 200 selling 281,000 copies in its first week, beating out such artists as John Legend and rock band My Chemical Romance.] where it remained for two weeks.Billboard Hot 100, including the theme song, "The Best of Both Worlds". It was the eighth best selling album of 2006 in the U.S., with nearly two million copies sold that year. The album has sold 3.5 million copies in the U.S and over 4.5 million worldwide. Eight songs from the album have charted on the
The album was later re-released twice ' a Holiday Edition featuring Cyrus's cover of "Rockin' around the Christmas Tree" and a Special Edition featuring "Nobody's Perfect." The first was performed by Miley Cyrus as Hannah Montana at the Walt Disney World Christmas Day Parade in 2006 on Christmas Day, and later appeared on 2007 album Disney Channel Holiday. Cyrus also opened for The Cheetah Girls, performing on 20 dates of their 39-city tour.
2007
Once again, Cyrus recorded a remake version of a classic Disney song to the DisneyMania fifth edition. This time, she covered "Part of Your World", from 1989 film The Little Mermaid, written and composed by the songwriting duo Alan Menken and Howard Ashman.
The album debuted on the Billboard 200 at #14 with a sales of 44,000 units, becoming the highest debut for a DisneyMania album to date.
On June 26, 2007, exactly eight months after the release of the first soundtrack, Cyrus released a double album, Hannah Montana 2: Meet Miley Cyrus. The first disc served as the second Hannah Montana soundtrack, while the second disc was Cyrus's debut solo album as herself. She wrote eight of the ten songs, credited by her birth name Destiny Hope Cyrus.
The album debuted at #1 on the Billboard 200 and sold 326,000 copies, selling faster in its first week than the previous soundtrack.] The album remained in the top 5 for over 40 weeks. On the strength of holiday season sales, the album returned and remained in the top 10 of the Billboard 200 in December on the strength of holiday season sales, and sold more than 700,000 copies during that period. The album, having sold more than 3,200,000 copies in the U.S was certified three times Platinum by RIAA.
The double album had five of its songs debut on the Billboard Hot 100 in the same week, while "Nobody's Perfect" climbed to a new peak. The highest of the peaks was "See You Again" at #10, which also become Cyrus' first song to enter the top ten on the Hot 100.
Cyrus performed both as herself and in character as Hannah Montana on a North American Best of Both Worlds Tour that started on October 18, 2007 in St. Louis, Missouri; the tour was extended, due to high demand, until January 31, 2008, with 69 total dates, 14 more than previously planned. The Jonas Brothersr Tour tickets for each date sold out in record time after they went on sale, disappointing a large number of fans.] The tour was recorded and released to cinemas in Disney Digital 3-D. The concert film brought in $8,651,758 on its opening day, and continued on to gross $31,117,834 to finish off the weekend, making it the highest-grossing opening weekend for a film to be released under 1000 screens, and on July 26, 2008 it was released on Disney Channel.] Though its initial run in theaters was due to last just a week, Disney extended the film's run indefinitely because of the demand of the fans. were the opening act for most of the tou
After that, Walt Disney Records/Hollywood Records released a live album recorded by Cyrus during this tour. It features seven songs as her character, Hannah Montana, and another seven as herself. The album peaked at number three in the United States.
2008'present
Just over a year later, Cyrus released her second studio album under her own name. Breakout is the first Miley Cyrus album that has no connection with the Hannah Montana franchise. Cyrus said that Meet Miley Cyrus was "just meeting me, finding out who I am", while Breakout was inspired by "what's been going on in my life in the past year." Cyrus co-wrote all but two songs on the album"Songwriting is what I really want to do with my life forever, [...] I just hope this record showcases that, more than anything, I'm a writer." A majority of the songs are co-written by Antonina Armato and Tim James, the writers of "See You Again" and "Good and Broken".
The album debuted at #1 on the U.S. Billboard 200 chart with a first week sales of about 371,000 copies. As of July 31, 2008 this was the second-biggest sales week of the year for a female artist; Mariah Carey's E=MC previously sold 463,000 copies in its first week.
"7 Things" was the first single to be released from Breakout. It premiered on Radio Disney on May 12, 2008, with a wider premiere on Elvis Duran the following day.[46] "7 Things" debuted at number 84 on the Billboard Hot 100.[47] After the single was released via the iTunes Store two weeks later, it rose sixty spots from number 70 to number nine.[48] It became Cyrus' highest charting single on the Hot 100.
Cyrus was invited to present the song "That's How You Know" from the film Enchanted at the 80th Academy Awards. She also hosted the 2008 CMT Music Awards with her father in April.[49] On April 9, 2008, Cyrus appeared on the American Idol fundraiser show Idol Gives Back, performing "Good and Broken" and "See You Again". She also told the audience that it has always been one of her dreams to appear on American Idol. In August 2008, Miley hosted and performed at the Teen Choice Awards.[50]
On 5 September 2008, Cyrus joined Mariah Carey, Carrie Underwood, Rihanna, Ciara, Beyonce, and many other female singers to perform a single for the anti-cancer campaign Stand Up to Cancer. The single, titled "Just Stand Up!", was performed live during the one-hour telethon that which aired on all major U.S. television networks.[51] On September 14 2008, Cyrus participated in other philanthropy action ' along with other performers, performed at the Gibson Amphitheatre in Universal City, CA for the City of Hope Benefit Concert that will help raise for cancer research and training programs.[52]
On November 4, 2008, Hollywood Records released a Christmas themed CD titled All Wrapped Up.[53] It features various musical artists signed to this label singing their own versions of holiday songs, which include Cyrus version of the Christmas hit "Santa Claus Is Coming to Town".[54]
Cyrus co-wrote and recorded one of the two original songs to the soundtrack of Bolt, the song also features the other Bolt star John Travolta. Titled "I Thought I Lost You", it was later nominated to a Golden Globe Award for Best Original Song. The soundtrack was released on November 18, 2008.
Entrepreneurship
Cyrus became a spokesperson for Daisy Rock Guitars in 2004, when she was presented with her first Daisy Rock guitar ' the Stardust Series Acoustic Electric Pink Sparkle. It was given to her by her parents from her father's Country Music Television fan meet-and-greet when she was 12 years old.
Disney released a Hannah Montana clothing collection in late summer 2007. Cyrus helped to design some of the pieces from the collection. "It's not a costume. A tween girl isn't doing dress-up, they want to look like they could be Hannah Montana's friend. This is a fashion line." In April 2008, Cyrus announced plans to write a book about her life and career, which she has since finished. The Disney Book Group bought the rights to the book for a reported 7 figures to be published by their imprint Disney-Hyperion Books for a scheduled release spring 2009. An initial printing run of one million copies is planned.
In December 2007, she was ranked #17 in the list of Forbes Top Twenty Superstar Earners under 25 with an annual earning of US$3.5 million. In April 2008, Parade and Us Weekly reported that Cyrus earned $18.2 million in 2007. Cyrus was ranked #35 on the "2008 Forbes Celebrity 100" with an estimated earnings of $25 million during June 2007 to June 2008.A wax figure of Miley Cyrus was unveiled at Madame Tussauds in New York City.


Let see how our star deals with her personal life...........

Cyrus is good friends with fellow Hannah Montana co-stars Emily Osment and Mitchel Musso, often texting and conference calling each other during busy days.[20] Miley Cyrus also taught Emily Osment how to play the guitar and Osment taught Cyrus how to knit. She is also friends with the stars of the highly successful TV movie High School Musical, including Vanessa Hudgens and Zac Efron,[63] and The Suite Life of Zack & Cody stars including Brenda Song[64] and Ashley Tisdale.[65]
In an appearance on The Oprah Winfrey Show, she stated that she looks up to Hilary Duff as her role model.[65] She also has many pets, including horses, dogs, cats, fish, and chickens.[66] On January 29, 2008 Miley Cyrus announced her intent to officially change her name to "Miley Ray Cyrus," her middle name reflecting that of her father's.[67][68] The name change became official on May 1, 2008.[1]
In an interview with USA Today, Cyrus was quoted as saying her faith is "the main thing" and is the reason why she works in Hollywood.[69] When interviewed by Parade, she added that she attends church regularly with her family.[26] In an interview with Christianity Today, Billy Ray said, "Being Christian, we believe in heaven," and "We also had a great church, and when you give up your church, your pastor, and the community you are involved in, you're making a big sacrifice. Let's face it, Hollywood is a completely different environment than Franklin, Tennessee."[70]
Beginning in February 2008, Cyrus and her friend Mandy Jiroux (who is also a backup dancer for Cyrus) have been creating videos on YouTube called The Miley and Mandy Show. The show, described as a "YouTube hit," is said to be filmed for fun by Cyrus and Jiroux and to be entirely their work, with Cyrus and Jiroux editing the footage together. It is mostly filmed in Cyrus's bedroom.[71]
In 2007, Cyrus made a large contribution to the City of Hope, giving $1 for every "Hannah Montana" concert ticket sold. She said that "the cool thing about being a part of City of Hope is that they are a cancer research center. They're not only helping kids that are there, but also finding out how they can heal them by figuring out what exactly is going on, which is amazing."[72]
In the September 2008 issue of Seventeen magazine, Cyrus stated she was in a relationship with Nick Jonas of the Jonas Brothers for two years, and that the two "were in love." They broke up at the end of 2007.[73]
Cyrus celebrated her 16th birthday with a charity fundraiser at Disneyland, which was closed early for the event attended by 5,000 fans at $250 per ticket.[74] The proceeds went to the charity Youth Service America, a youth volunteering organization.Ten outstanding youth volunteers from Youth Service America were invited to attend,[78] and later in the evening, Cyrus presented a $1 million check to the organization.[79] She also gave a musical performance for the attendees, singing four of her Breakout[79][78] songs.
On December 1, 2008, TV Guide reported that Cyrus was selected as one of America's top ten most fascinating people of 2008 for an Barbara Walters ABC special aired on December 4, 2008.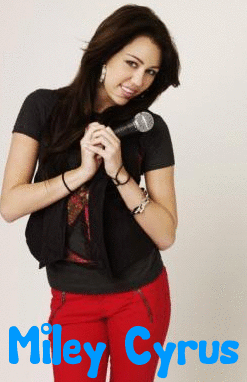 MEMBERS OF THIS CLUB::::::::
Miley_hp
Chhilt
Diamond-girl
MusicalAiswarya