Head-turner Aamna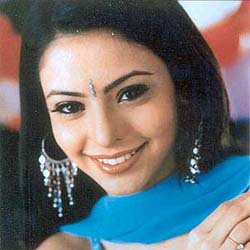 Aamna Sharif…Small screen switch off.
SHE'S barely one-soap-old but the girl who's perennially clad in churidaars and sports a radiant smile is already a head turner.
News is Aamna Shariff a.k.a. Kashish of Kahin To Hoga has let it be known that she is no longer available for small screen roles after doing the Indo-Pakistani serial Aan.
Aamna makes no secret of her decision. "Yes, I am not signing any new serial as I am negotiating a few film roles. I don't want to be distracted by television," says the lady.
In fact, Aan, too, is a preparation for the big leap. "I play a bar dancer. And some producers who have seen parts of the yet-to-be released serial are so impressed that offers have already started pouring in," says Aamna. But isn't it a bit risky shutting out TV producers so early in her career? No, she says, "If people have liked me on television, I see no reason why they won't accept me in films." Aamna should ask stars like Aman Verma, Natasha, Bhumika and Navneet Nishan. After burning their hands in films, they have all retreated to the safety of the small screen.
isn't it an old article?