Hi guys welcome to all the fans of Jay ...we have been together with jay always be it Jhalak dhiklaja or Kaun jeetega bollywood ka ticket so now when Jay is hosting the Dance India Dance (DID) we have followed him here also
...
Well Jay needs no introduction, he is very popular among the females but still i'll keep the intro short..
....
Jay was introduced as neev in kayamath ..he was fabulous in his role and has done many ad films with saif ali khan for lays
he was in jhalak dhiklaja season two and was the second runner up for the show. He did kaun jeetega bollywood ka ticket and was in top four jodis..
....
We as his fans wish him all the very best for the show we know jay you will rock as anchor also ..
he is on IF with us as a member... His id is jay-neev4u and for more information about jay his latest pics and videos and articles please visit.
www.jaybhanushali.in
that is his homepage
Here are few of his posters made by his fans
Updated with new siggies found in kayamath section and Birthday Siggies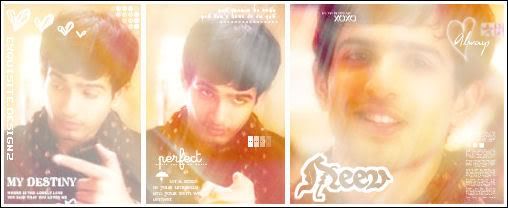 His fans that have always been with him
Fan List

1. lovly_angel
2. sweet_JAY_FAN
3. k-ektafan
4. fijiana
5. laksh_kt
6. zcbcc34
7. Crazy4Naman
8. animerocks
9. divyachandresh
10. cutie4321
11. nac587
12. fahimataq
13. 5umY1!
14. rajeev_fan
15. urooj naqvi
16. sharad's fit
17. sansali_pooja
18. linkin_vonsky
19. 324753404
20. neevprachi4ever
21. khushix
22. psjiggy
23. i5hy
24. falak298
25. *~Anjali~*
26. nainashah
27. Hritzfan
28. laney
29. suvasu
30. sagarika2008
31. petel00
32. KIZ ~ KS ~ KAYA
33. sharad+divz4evr
34. dinajv
35. snowflake0555
36. burberryx
37. x-MiNaLi-x
38. sweet_simi
39. Shubh-Astha-40. Angad luver#141. pavanjit
42. brainychild9243. shubh_astha4eva44. Girl_2007
45. Aamir's Fan
46. jalak_ji
47. babii.girl48. luv_eijaz_anita49. imran.siddi50. missof77
51. xXxrachnaxXx52. Faiirytale x353
.
ix2u54. noughtynikki55.khushboo1656.
digitalone 3357.
kelly1258. Twixfairy15'-------------------------------------------------------------------------------------------------------------------------------------'





Edited by lovly_angel - 29 May 2009 at 11:29am