Originally posted by instantkhichdi
Hi
I am new to this forum
I am going to tell you a story
(the post has been edited....new points are added)
A witchy past of Delhi
This happened Four-Five years back.....
This happened in a modern city of Delhi....
If it would have happened in a village of India, then it is understandable
Even the Middle - class of Delhi got afraid
afraid of a witch!!!
a witch that KILLS!!
A news spread that a witch is roaming around in Delhi.
She knocks the door to any random house.
When the person comes at the door,she cuts an onion.
Suddenly , blood starts dripping down the onion
and the person at the door dies at that very moment..
This was the story..........
and.....the aam janta of Delhi took preventive measures..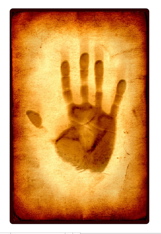 a news spread that if you dip your hands in haldi, and then give an imprint of both hands on entrance of your house, the witch will not be able to come at your doorstep.
Believe me........people actually took such measures
..and articles related to this witch story were present in reputed english newspapers like The Hindustan times and The times of India.....along with hindi daily navbharat times(which is already expert in spreading rumors.....)
A real life incident
A real life witch incident just struck my mind while recollecting the above gaathaa
my cousin sister's uncle was once coming from Sonepat city (Harayana) in a car...
It was late night...around 11pm
After reaching the Camp district of Delhi, he had to take a diversion to ridge road due to metro rail construction.
The road is famous for its sunsaaniyat and bhayanakness.
Suddenly the car stopped.................the fuel got empty!!!
He was all alone....
Suddenly he saw a witch!!
He immediately ran as fast as possible.....
The witch was left behind
I myself confirmed the news from my cousin's aunt....she said that witches do exist in delhi's ridge road and in jungles of Uttar Pradesh(state adjoining delhi)
*******************
Do you believe in such things?
ughhhhhhhhhhhhhhhh it scared meeeeeeeeeeeeeeeeeeeeeeeeee...................
stupid witchhhhhhhhhhhhhh ....
tfs for sharign as its cool to believe. paranormal happenings. you know