Veenzy... valentines is soo gona rock, we'l totally rock this topic LOL its all about love!!
Kariz
...looove alll the creations u posted sweetie!
ROFLLL on
GL ke nevr leaving Mayas
thats us!
Anita
..Heyyy!! ditto, on feeling at home...
and DEFINITELY hi5 on Ridzy seducing Armaan..it'd make our day/week/month/year/life ROFLL!
@ALL..... DMG has been pretty goood to us this weekend na??
I mean...with the WEEKEND PROMOS! Not one...not two...BUT THREE!
First we had the Armaan vs Suri fighting one......then the Chaliya one (the besssssstest!)......and now.....a combo promo of MJHT/DMG....did u all see it? look....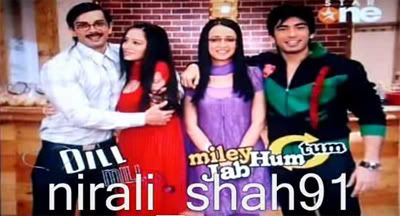 [entire credit for video to Nirali Shah]
How cuuute are our AR and their love? look...even in this promo,they look soooo in love
the way they r holding onto each other, to never let go...the way she is looking into his eyes...
Muahh LOVE THEM!!!


Edited by Preeti_285 - 25 January 2009 at 5:42pm