Originally posted by shakila5678A talented actress and
she knows it!


B
ACK
in 1999 when she bagged the title role in
Noorjahan
, media
watchers were surprised. Very few knew that Gauri Pradhan was no
stranger to the arclights. Before the role fell in her lap she was
already into modelling and was one of the finalist at the 1997 Miss
India contest.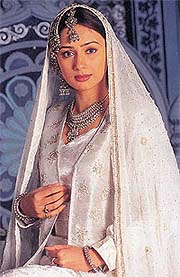 Gauri Pradhan.... Bollywood calling

But after a
reasonably successful run of the historical nothing came her way. She
was accused of attitude, of arrogance. Gauri doesn't deny it. She
prefers to let her acting do all the talking.
And that's what
seems to have paid off. After being out of work for almost a year, she
now has a starring role in
Kutumb
, the Monday to Thursday soap
on Sony. The serial revolves around the story of a young lady caught
in the crossfire of rejection and isolation. Her mind wants revenge,
but her heart and upbringing tug her the other way.
"The character
is very close to my heart, and is just like me confident, determined
and fiercely independent," says Gauri and adds she's planning
to do one serial at a time. "I cannot take on too many serials
because that ruins my concentration."
Despite accusations
of being a recluse, her role has been widely appreciated and no one is
surprised that Bollywood is opening its portals to her. But she says.
"Films can wait. I still have a lot to learn in acting. I didn't
want to enter films half-prepared," says Gauri confident that
with her dedication and commitment there's only one way to go up, up
and up.
shakila thanx 4 this specific article..never have read t b4..n i just luv gauri for being like she is
..cz she s who she is no matter wt any1 thinks abt her..cz all dat matters to her is wt her luved ones think f her n all f them know wt a sweetheart she in reality is..