In this section, we will have the beautiful poems,patch up scenes and the list of members


Firstly, I am posting beautiful peice of work by mads from yuvi's pov...as though he is saying to ashi
The poem is one of my fav. poem and mads wrote it soo beautifully that i always left speechless whenever I read it!
So here is the poem by madsy...
During those dark and lonely days
Wenever u feel sad or depressed...
Remember there's someone who won't let ur heart break...
And here's one promise I truly make...
To get just one smile on ur face...
I'll B There 4 U...

Wen I first met u, I never thought I wud fall 4 u...
U r mad, crazy n insane and u drove me insane too!!
Maybe its this madness that drove me towards u...
Or maybe I was just destined 2 b with u
But even then I wud've said this 2 u
To get just one smile on ur face...
I'll B There 4 U...


We fought, we laughed, we cried too
And sometimes I know I did hurt u...
But believe me honey wenever I hurt u
My heart ached only 4 u
Wenever I saw u cry my heart cried too...
Though I never said this then...
It was a promise I had made--
To get that one smile back on ur face...
I'll B There 4 U

Ur friendship gave meaning to my life...
I knew what I wanted from life...
U taught me to dream to follow my heart
And unknowingly u made a place in my heart
I knew u were someone special then...
And I was longing to say this 2 u--
Wenever u feel ur life's a waste...
Remember there's someone who won't let ur heart break...
And here's one promise I truly make...
I'll B There 4 U...
Our Love was the best thing that happened to me
I thought there's nothing that cud be impossible 4 me...
My Life I knew was now complete
And with U besides me I cud hav my dreams fulfilled
Again and again I wud say this 2 U
Knowing that sometimes U wud get bored of it too -----
Remember there's someone who won't ever let ur heart break
And here's a promise I truly make...
To keep ur face smiling always...
I'll B There 4 U
U R My Life...My Heart...My Love...
My Life's incomplete without U- My Love
All my dreams, my life's destinations
Start and end on U- My Love
Though still sometimes I forget to say this
I won't forget this today---
To get just one smile on ur face honey...
I'll B There 4 U


Life's too short...but lets make it sweet...
Maybe our Love can make it sweet...
I hope in life we never ever part...
Though I know sometime ahead death will take us apart
But even then if I cud do something 4 U...
I cud only say one thing 2 U...
To get a smile on ur face even then
I'll B There 4 U
Though for the millionth time I say ' I love You '
Everytime is special 4 me
But today I ask no answer from u
Coz I know my love will b there 4 u
Whether its acceptance or rejection from u
I'll always say the same 2 u -----
During those sad and lonely days...
Wenever u feel ur life's a waste...
Wenever u feel lonely or depressed...
Remember there's someone who won't let ur heart break
And here's one promise I truly make
To get just one smile on ur face...
I'll B There 4 U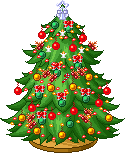 Next marvellous piece of work that I am posting is poem by our very own Loons (Smriti). HER is the poem from yuvi's point of view describing what ashi did to him and how she changed his life for good!
This poem is really very very touchy and I surely have to move you when you read it
This poem has to be my favorite poem of all
And I am sure it shall become yours too once you read it
So here is HER...


HER
Life has its own meanings
For some it means money, for some it means love
But for me it means nothing
I was a little boy....and had always waited for my dad to give me one pat on my back
But all I got was an angry smirk telling me I am good for nothing
and certainly nothing without him
I got the legacy of shrewdness and selfishness from my father
and all he taught me was to love d green note
I used to live in the bliss that I rule the world
And was the most powerful and coveted among my friends
But all this was fake and life had its own way
to enfold its realities
There came a girl, tall and fair
with perhaps the most wackiest attitude in the air
Her looks disgusted me not because she wasn't beautiful
but because I could feel she saw through my fake world.
In a way she just made me disgust myself
Her presence made me accept that till now
life had no real meaning
But I wanted to get out of this cobweb...
of shallow aloofness and delusioned joy
and she became my inspiration to carve my own niche
Then came the glorious seven days...
the seven days when I had actually lived for the first time...
before that I was just running in a rat race
crushing everyone beneath my false ego...
she made me trudge new waters and showed me
every moment had a meaning of its own
smile was nothing but a faint tilt of lips for me
but she made me laugh till I had a shiny gleam right there in my eyes
touch was nothing but a necessity
but her one touch made me feel my presence and be utterly proud of myself
Love was a trendy fashion to be dumped with new arrivals
But a look at her face told me LOVE IS HER...
Love is this strange feeling when all you want to do is..
ensure that she smiles always
and all her pain is first met by me
but..alas life ditched me here too...
like myself, even those seven days were fake
I had tried to win her over by faking love
But I had no clue that all the time this love was as real as my heart beat
She was the only one who was not mesmerized by my looks or my money
she was the only one having this power over me...
She was the only one who had cared to love my soul...
Which I didn't know existed deep within me
She was broken as never before
She was hurt to her very core
But yet she stood infront of me
Tall and stright with the grace of illumination
I realized then that this was
my strength..my power..my enigma...
but I have lost her and perhaps even destiny wants this
she deserves someone as pure and divine as her
I know she would never forgive me
but she would always be there...as a friend
I have to seal my love in my heart
and never let it reach my eyes
because if she sees it..she would never even be a friend
I have to grit my teeth and bear to see her with someone else
But all I pray to god is whoever he is...is a real Heman
and not a fake one like me...
suddenly life really had no meaning...
...except Her...
all I desire is to make her happy
so what if I am not the one sharing it with her
I wipe the tears which are falling from my eyes...
but with these tears all my fakeness is washed away
today I have risen above shallow materialism
and have turned into a real man
maybe I would always be alone amidst hundreds of people
maybe I will find someone else tomorrow...
but the beauty of this love would go with me to my grave
and I would imbibe it in my songs for the rest of the world to cherish it
but to understand it one has to be REAL and SELFLESS
and that's what she has made me today.


Okie now... We would follow the trend which was done in Endearment, Love, Destiny, Medley, and Intensites
... We would post AY 1st and last patch scene
which were like real suprises for all AY fans!


Here is the 1st patch up by Devilyyyyyyy
We know how Yuvi proposed to ashi in
front of everyone, right? I'm sure everyone remembers
that scene(and you should!) Even then, just to refresh your
memory, here is the scene

Scene: Yuvi confessing his love
for ashi in front of all. Everyone is busy partying and
having fun. Yuvi goes infront of everyone and tells ki
"music off please." The music is off.
Yuvi: Everybody, could you please
give me a moment? Ashi is in the crowd and she's
looking on at Yuvi, curiously.
Yuvi: Kuch derr pehle tak, main uska real naam bhi nahin jaanta
tha. Woh
kehti hain, ki main usse aaj se nahin, bahut pehle se
jaanta tha. n
something tells me, haan hum dono ek doosre ko, humesha
humesha se
jaante hain. I LOVE
HER!(Ashi now looks really really
shocked, as is everyone else too.)
Yuvi: Maine aisa, pehle kabhie
bhi kisise nahin kahaan....aur aaj, aisa lagta hain ki
uske bina, main kuch bhi nahin
hoon. HEY YOU!
(Yuvi points at ashi, who is stunned. Everyone else also
stares at ashi
n are astonished at yuvi) Love station now plays in the
background.....
Yuvi: Will you dance with me?
Now................and forever.....(aww this dialogue was
too cutie!)Everyone is congratulating Yuvi
but he shakes them off n goes after ashi.
Now
ashi is shown, standing against a gate or something n
just brooding
over the events that had just happened. Yuvi comes there.
Then
ashi calmly says, "Yuvi, all this jo humaare beech ho raha
hain.....bahut sudden ho raha hain....I mean, I like you
a lot. Par kya
tumhin sach much pata hain ki tum kar kya rahe ho?
Tumhein toh kuch
yaad hi nahin hain.......main kaun hoon, hum kaise
mille.....kal tak
tum mere baare mein kya sochte the. Dekho Yuvi, mujhe
samajhna itna
easy nahin hain. Main bahut complicated
hoon!
Yuvi: Anvesha, tumhaare complicated ya simple hone se mujhe koi
farak nahin
padta. Tum jaisi ho, perfect ho......jo mujhe yaad
nahin....it doesen't
matter. Jo mere saamne hain...... yahaan.....that's the
one I love.

Ashi: Tum jaante nahin....maine
iss moment ke baare mein kitna socha
hain...aur aaj, jab yeh actually ho raha hain......I'm really
nervous. Par Yuvi, kahi yeh tumhaari
infatuation toh nahin? Tumhein toh mere baare mein kuch yaad hi
nahin....

Yuvi: Shayad, but main itna
jaanta hoon....tumhaare bina, main kuch bhi nahin
hoon............
Then
ashi places her hands on yuvi's shoulders and the two of
them look into
each other's eyes n r lost. N then the scene gradually
fades, which I
really liked...........
Coming to their last patch up which was the most awaited thing in the history of remix!
The credit for scene goes to AYLS 2...mads


The Gang disperses from the common room, leaving Ashi and Yuvi alone...






Ashi turns around blushing and smiling at Yuvi and says, " Kitni koshish kar rahe hai na?? "

" Yeah...uh, Ashi?? I was wondering, kya hum unki help kar sakte hai??? " says Yuvi.






Ashi has the perfect confused look on her face as she says, " matlab?? "




" I mean uh jis cheez ke liye vo sab koshish kar rahe hai kya hum bhi vohi try kar sakte hai??? "




Ashi sighs and looks down and blushes and says, " Yuvi!"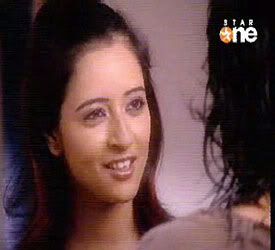 " Ashi tum mere liye bahut special ho" and Ashi smiles knowingly.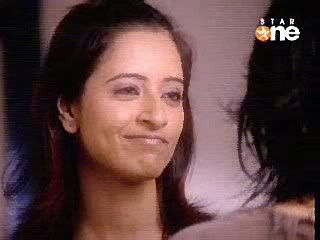 " I mean din ke 24 hrs mein se 20 hrs mujhe bas tumhe maarne ka dil karta hai!" Ashi looks at him with her expression changed while Yuvi continues in his sweet voice " aur meri yeh feelings bas tumhare liye hai"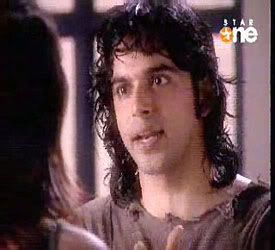 Ashi in her typical ashi tone says " Thanx...main bhi kuch aisa hi feel karti hoon!! "




" See?? I told u its so special...I mean kitni baar humne koshish ki...ki hum apni feelings ka kuch kar sake."




" Lekin har baar koi na koi problem hui hai...no Yuvi, I don't think its gonna work"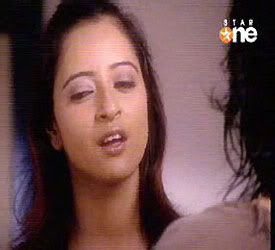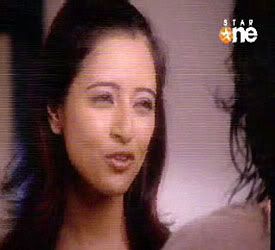 " Come on ashi I mean har relationship mein kuch toh problems hoti hai...I'm sure, I'm sure it'll work out"




" Kaise??? Tum itne sure kaise ho??? "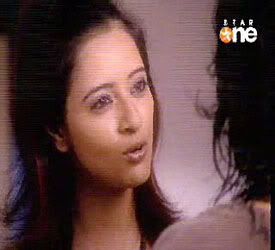 " Kyunki Ashi apni life mein main bas ek ladki ke saath ladna chahta hoon..aur voh ho tum!"




Ashi's left speechless anddoesn't know wat to say




Wen Yuvi says it all
"I love u Ashi"




And looks at her with those looks that can make ne gal fall flat for him..




and for a few moments both of them staring at each other with the beautiful Ashi-Yuvi background music being played




This time Ashi breaks the silence, blushing and she replies...
" Par tum sure kaise ho ki is baar koi problem nahi hogi?? "




" Uh toh hum yeh promise karte hai ki hum har problem ko ek saath sort out karenge, done!!! Rule no.1- har problem ek saath sort out karenge, ok?? "




Ashi smiles and blushes and replies " ok!! "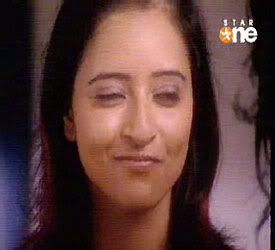 And then they go round and round the small table ( very much like pheras as most of us noticed
) with Ashi chanting her rules and Yuvi agreeing to them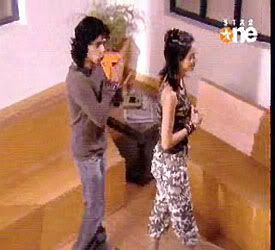 " Tum mere liye kabhi flowers nahi kharidoge"

" Done!! Rule no.2- no flowers!! "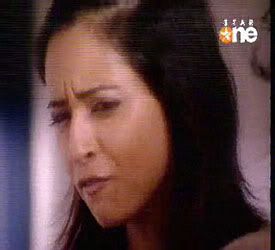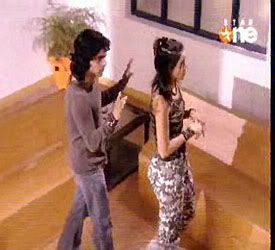 " No romantic settings??!! "

" Done!! Rule no.3- no romantic settings.!! "




" Tume mujhe sirf horror movies dikhaoge no senti stuff ok?? "

" Uh Agreed!! "




" Uh hum dono ek saath saare stuffed stoys dissect karenge"

" What??? Uh ok!! Done!! "




" Tum meri har baat manoge!"

" Done!!! Hey hold on"




" No No No Yuvi,u said yes!!!! "

" No No No No No that's not fair"




" Pshycho u said yes!!! "

" Wackho that's not done!!! "




"Duh-huh!! I Love You!! "




And they hug..a hug full of passion and romance




And they break apart for a few seconds wen Yuvi says " I love You too" and Ashi blushes deeply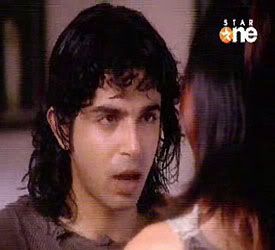 And they hug again..this time forever it seemswith the beautiful Ashi-Yuvi backgroundscore




Until the gang disturbs them by celebrating their victory by shouting loudly




and they both break off looking embarrassed




Hope you guys enjoyed the small journey of their patch-ups

And now here is the list of members:


xMarauderx (ashi rocks)-harshu funky n crazy-vanshika ashi-coolest-nehal
kudi420-shefali
coolniyu-niyu(niyathi)
anvesha rulz-ashita
nishi-nishi dii
remix_one-ritz(ritwika)
mads-madhura
uvscraziestfan-shelly
shanrox-shan
me-myself-amrita
aditiyuvi-adi(aditi)
s_aangel-sonia
cz13-charz
pheonix'87-janki
Evathegr8-eva
Dead devil-
Kritika
breeze_912-sunita
Keisha-keisha
san_sujal-sankul
neelakshi1985-neelu(neelakshi)
dj doll-divya
saff-saffiyah
hellraiser-sindhu
anonymous_891-sonali
remixx_love-rachna
shriyaroxxx-shriya
ashi912 -drishti
ashiandyuvirock -manishika(mani)
exquisite gal-parul
vanu-vanya
2kool-alomi
misha-misha
coolpinks-shirin
rakhi_uv-rakhi
yuvraj_anvesha-Preeti
fate-tia
mayona-mayona
rina_remix-rina
komal_ashiyuvi-komal
remixer-kriti
*nitz_rocks*- Nitz(Niyati)
a.r.t.y-Nikky
smritisashi- Smriti
divyaashimix- divya
luv_remix- pinky
animateash- aashni
~Sirius*Ysh*- Ysh (Vaishnavi)
sanaa_uv- Sanaa
sayanti_ashiyuvi - Sayantika
Zinu29 - Zinu
Ashiyuvi4life - Komal
usharafuddin - Hiba
IBserenity- Jenny
~*Ani*~- Anisha
devilz_here- Sidra
groovygal14- Aishwariya
.smriti.- Smriti
koolgal_anisha- wacky
evilseye- Sur
Priyachaku_18- Priya
xXMissSmariXx-Smari
nimmo20- Anu
rihanna89- rims
sweetzkarish- karyy (Karishma)
gungun- Gun
Okie people this is the list soo far... it will be updated as the new members arrive
Do let me know if i have missed any one out! Just PM me
Oh yesh... forgot to say that everyone is welcumed to post here! Just the fact that you are a die-hard remix fan who adores AY should be enough for you to post!


Edited by smritisashi - 01 January 2009 at 10:26pm