It's the end of the year'and the time has come to bid farewell to 2008! But before we do that' let us take a moment to decipher the things that have happened over the last 12 months here on IF Tamil Section
The year 2008 is memorable in many ways:
Many new members have landed on IF and have become a part of our IF family!
The emergence of wonderful new updaters in our team
The formation of a number of new sections, such as Kalasam, Sivasakthi, Senthura poove, Thirumathi selvam, and many more
New addition to the IF Develop team with Kadhambari, Jasunap, Netra and Nallu becoming wonderful viewbies
We had our first IF marriage, when our dearest member Fluidd (aka Uma akka) got married in March' 08
We got our 2nd IF baby, when Netra sis gave birth to a baby boy
and to last not not least....some of our members finally could meet each other in person when we had the first ever IF meeting in Malaysia
Amidst these happy moments... sadness struck us with the demise of our beloved member Vinutha, who went far away from us and this world.
Yet, she will always remain in our hearts forever and will guide us like the heavenly angels'
Okay...now is the time to welcome 2009....
New Year's Reflections

Looking back on the months gone by,
As a new year starts and an old one ends,
We contemplate what brought us joy,
And we think of our loved ones and our friends.
Recalling all the happy times,
Remembering how they enriched our lives
We reflect upon who really counts,
As the fresh and bright new year arrives.
And when I/we ponder those who do,
I/we immediately think of you.
Thanks for being one of the reasons I'll/We'll have a Happy New Year!
By Joanna Fuchs


The Gift of a New Year
Here's to the year
that's almost past its expiration date'2008.
We all had some surprises, didn't we?
Some good, some distressing.
Let's use everything we got from our experiences,
everything we learned,
to enrich the new year.

Here's to the new year, 2009,
a gift we haven't opened yet.
May its bright, shiny package
contain even more than we hope for.


And even while we're delighting in new treasures,
let's appreciate fully what we already have'
the blessings we take for granted.
Make a list, and check it twice.

And here's to all you wonderful people
(wave glass around to encompass the whole group)
who are putting up with my toast;
I hope in the new year
you see yourselves the way I see you:
intelligent, interesting, and likable

(Raise glass) To 2009:
May it give a whole new meaning
to the phrase, "the good life."
By Joanna Fuchs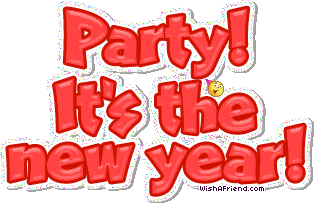 So friends, whats your New Year plans? How are you gonna celebrate it and finally...whats your New Year's Resolutions?
IF Develop Team



Edited by meli - 30 December 2008 at 4:45pm