Dreaming Big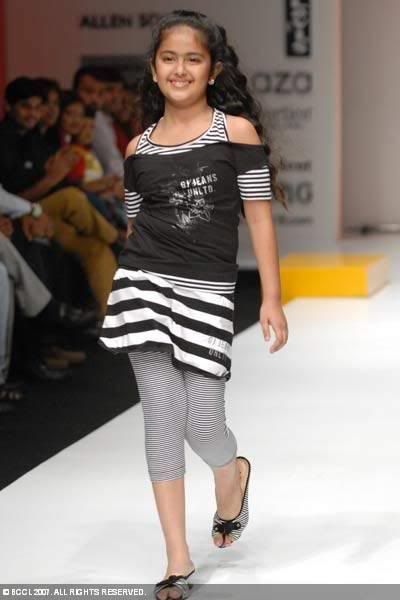 Avika Gor, the 11-year-old actress who has become a household name, is just one year old in the industry, but with her acting skills, she has paved her way up. Yes, she is Avika Gor or better known as Anandi of Balika Vadhu.
Talking about her character she says, "Anandi does everything... hasna, rona...," she trails off. "I get along with everyone, be it dadi or sasu ma... they teach me how to act and they also teach me how to say words clearly.
Everyone helps me and I am friends with everyone. Everyone loves me," she adds.
Her first stint with television was Rajkumar Aryan, where she played the role of Rajkumari Bhairavi. "I was ten years old then," says Avika. Since then, she has also worked in other shows like Karam Apna Apna, Meri Awaz Ko Mil Gayi Roshni.
Soon Avika will be seen with Shahid Kapur in the movie Pathshaala. Talking about her role there, she says, "I play Tina Khanna. It's a small role, I had signed it before Balika Vadhu." She adds, "It was fun working with Shahid bhaiya, he is very good."
Avika has done one more movie ' Morning Walk. She says, "Anupam Kher and Sharmila Tagore are my grandparents, and Divya Dutta and Rajat Kapoor my parents in Morning Walk. I have a lot more scenes in this movie than in Patshala. In Morning Walk, I learnt a lot from Anupam Kher. He taught me many things ' how to cry, how to talk..."
Talking about how she rehearses and prepares for her role as Anandi she says, "I read the scripts, dad helps me out and then I do a rehearsal with a director...so simple!"
For someone her age, you would expect her to study and not work, so does she get time to study, "Yes. Mostly, I go everyday but sometimes I take half-day. I give regular exams and take holiday for exams, so there is no such problem with attendance in school. I study during the shoots, my mother helps me out. Maths, Hindi, Marathi, Science, English are my favourite subjects."
Working all day on the sets does not mean that she does not do well at her exams. Avika scored 83.45 per cent in her last exam and this proves it all.
She is a popular kid in her school and it's not a surprise why. "Yes, they all take my autograph and photos. All are my friends and I like to make more friends. Earlier less people used to love me, now the whole world loves me," she says proudly.
So what does she do in her free time? She has a galore of activities to do she says, "I play study, sleep, dance, sing and swim."
Ask her if she wants to do more films and she quips, "Yes, I want to do more films... I want to become Miss Universe and after that I will do films, serials and many charity shows."
Well, so what are the charity shows that this young star wants to do? "I want to help the handicapped children and poor people," she says.
Ask her why she wants to become Miss Universe and she reasons, "Because I love modelling." She apparently doesn't get nervous and these are signs of a great star. And mind you, she is already a model.
She asserts, "I was in Lakme Fashion Week 2007 for Gini and Jonny and I have done many other fashion shows as well. I won the best model award for Gini and Jonny."
*For pics of Avika and Avinash modelling for G-n-J , check out :http://www.india-forums.com/forum_posts.asp?TID=1080936 : ) *


Edited by Shubh_Aastha - 30 November 2008 at 6:35am