Originally posted by soni_gal
Salaam Namaste friends
I am Vidhi, and today is a very special day for a very special person!!!
Today, is someone's Birthday!!!!
And today is NISHI'S BIRTHDAY!!!!!!!!!!!!!!
Here are all the msg i got from your wishers.
aawwwww
thankooo soooo much vidhz!!!!
i looove you sooo much

Hey Chandni,
Wishing you a very Happy Birthday!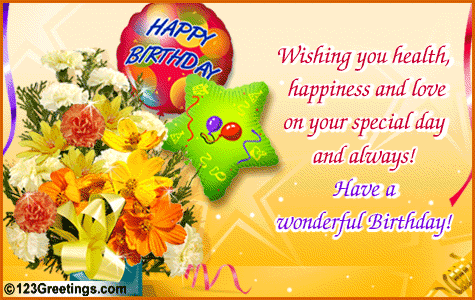 May all ur dreams and wishes come true!
I Wish u all the best Life has to offer!
Love,
Gracella
thanks gracella!!
hi nishi..

A Relaxed Mind, A Peaceful Soul,
A Joyful Spirit, A Healthy Body & Heart full of Love...
All these are my Prayers for You....
Have ek dum badiyaa Happy Birthday. ....many many happy returns of the day..
vinu
hahahaha vinu u are always chilling na
thanks
many many happy returns of da day dear nishi may u have a blasting bday n succes tumhare kadam chume best wishes dear
sorry nishi i had my portion already hope its okk
love
jhumi
awwww hahaha thankssss
nooo
its not ok
jk jk
Hey nishi!
Many many happy returns of the day.Happy Birthday. I love you and always will.I hope all your birthday dreams and wishes come true.Although I can't wish you a happy birthday in person; I will spend the whole day with happy thoughts of you. =) love ya always!
xoxo
-Lara
thankooo laraaa
Birthday Blessings
Instead of counting candles,
Or tallying the years,
Contemplate your blessings,
As your birthday nears.
Consider special people
Who love you, and who care,
And others who've enriched your life
Just by being there.
Think about the memories
Passing years can never mar,
Experiences great and small
That have made you who you are.
Another year is a happy gift,
So cut your cake, and say,
"Instead of counting birthdays,
I count blessings every day!"
Swansea
awww thanks swansea!!!
And here is a msg from me, your bestest friend!!!
Happy Birthday, you're not getting older you're just a little closer to death.
To the nation's best kept secret; Your true age.
Happy Birfdaii my best friend (in my wacky language
)
We all love you alot and hope you have a wnoderful birthday and get loadz n loadz of present!!!!
Love,
Vidhi
aawww vidhzzzz....
u are too much
thanks sooo much
im soooo sorry for replying like 2 weeks late
but thanks againn i looove u
this was a really beautiful post