Bollywood's most stylish hotties


To quote celebrated designer Yves Saint Laurent, Fashion fades, style is eternal. Show business is a trade of breathtaking glamour and overwhelming glitz; where looking good is a 24/7 requisite. Our stars know this more than anyone else.
Whether they are walking down the red carpet, promoting their million-dollar movies, attending a charitable cause, waiting to board a flight or window-shopping in Oxford Street, you'll almost always find them in a spic and span state.
Call it price of stardom or image consciousness, Bollywood loves fashion. But sporting trendy designer labels alone do not make an individual stylish. Style, as the late YSL rightly put, is eternal. And need we add, internal too. With this thought, rediff.com presents Bollywood's Top Ten fashionable stunners and hunks.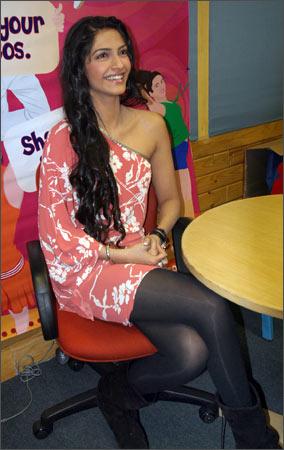 Sonam Kapoor
We dig her hair. We dig her smile. But most of all we love her off-beat sense of fashion. Whether it's the way she sets her tresses or does complete justice to wacky outfits, Anil Kapoor's vintage fashion-obsessed beti is a complete original.
http://specials.rediff.com/movies/2008/nov/06slide1.htm