Ahista Ahista Part 2
Sanvi and Vanshika enter their mother's room. They take her blessings. Their mother (maharani Prateeksha) takes out a scroll which was the message from Dharam
Prateeksha: Sanvi humme yakin hai ke apne suna toh hoga ki Aryanagar se sandesh aya hai...Rajkumar Dharam ka....woh apse Amargardh ke Ganpati Visarjan mein milna chahte hai...aur uske badh apki sagai hogi
Sanvi looks down
Prateeksha: hum aur apke pitahji chahte hai ke ap wahan jaye aur Rajkumar dharam se miliye
Vanshikha clears her throat
Prateeksha: ap kuch kehna chahti hai
Vanshkiha: maa...agar Sanvi didi Rakumar Dharam se milne keh badh unse shaadi na karna chahe toh?
Sanvi: vanshika...
Prateeksha: dekhiye Vanshika...hum jante hai ap Sanvi aur Dharam ke riste se khush nahin hai par ye duniya humari ya apki marzi se nahin chalti..Dharam ke pitahji apki pitahji ke bohat ache dost hai...haan ye baat alag hai ke dharam aur sanvi ne ek dusre ko nahin dekha kyun Dharam bachpan se gurukul mein teh...maharaj Ajaypal khudh ye rista leh kar aye teh...dono rajya ke ache ke liye
Vanshika: ye ek rishta hai ya soda
Prateeksha: Vanshikha!!
Vanshikha: hum teekh keh rahe hai...didi ek aise insaan se shaadi kaise kar sakte hai jise inhone dekha bhi nahin toh pyar toh dur ki baat hai ye inki zindagi ka faisla hai...is mein didi ki koi marzi nahin chalegi kya?
Sanvi: Vanshika...humme apni kismat Rajkumar Dharam ke saath jodh li hai...
Vanshika: par didi...
Prateeksha: apne apni didi ka faisla sun liya na....dekhiye Vanshika ye zindagi hai yahan pe apki kahaaniyon wala pyar nahin hota...yahan shaadi ke badh pyar hota hai...humare aur apke pitahji ki shaadi bhi aisa hi hui thi jaise Sanvi aur Dharam ki ho rahi hai...beta ap Rajkumari hai...apko apni zimedariyon ka khyal hona chahiye...apki did ko he dekhiye....
Vanshika: par maa...
Prateeksha: bas Vanshika...humme aur koi behaas nahin chahiye...aur jah ne se pehle ap ek aur baat sun lijiye...hum chahte hai ap sanvi ke saath Ganpati visarjan mein jaye....apki pitahji kal rajya se bahar jay rahe hai aur unki ger mojudhgi mein humara yahan hona zaroori hai is liye ap jayen gi apnu didi ke saath
Vanshika turns and leaves without another word....followed by Sanvi
Prateeksha: hai mata rani is ladki ka kya hoga...apni duniya se bhar kab aye gi
On the other hand in aryanagar:
Dharam Veer joined their parents and younger sister Deepti for the arti...as Veer went past Deepti he tapped her her left shoulder and walked past her right...she turned and saw that it was her michievious brother who was playing a prank on her..she smiles
They all fold their hands and do the aarti...Veer just loved doing the arti like this...listening to his mother's melodious voice sing,it was a time where the entire family was together and they were closer to God.
Once the arti was done Veer headed straight for the prashad ki thali
Dharam: itni bhi kya jaldi hai Veer...pehle ashirwad toh le lo
Veer: woh hi toh kar raha hoon...shivji ka prashad ashirwad he hai....
He helped himself to done prashad
Everyone laughs as he eats away....slowly all of them take some prashad and make their way to the dining area to have breakfast
Veer loves the food and begins eating quickly...he stsrts coughing
Niviriti: Veer itni jaldi kya hai...shanti se kao
Deepti: maa bhaiya ko ghoda savari ki liye jana hai aur phir abhiyas bhi toh karna hai...isliye itni jaldi mein hai
Ajaypal: nahin veer aaj ap ghoda savari ki liye nahin ja rahe hai
Veer: kyun...humme jana hai
Ajaypal looks at Niviriti...he knew Veer wouldnt listen to him...he would listen to his mother so indicated that she takes over from there
Niviriti: beta hum chahte hai ke ap Dharam ke saath Amargardh ke Ganpati Visarjan mein jaye
Veer: par hum kyun jaye....shaadi Dharam ko karni hai
Niviriti: kyunki hum chahte hai...apni maa ka kehna nahin mano ge
Veer: aisa khabhi hua hai maa
Deepti looked at her motehr in admiration...Niviriti had this magic to persuade people and she always used it on Veer
Veer: teekh hai mein Dharam ke saath jaunga
Deepti: ye hui na baat...bhaiya is bar ap bhi ek achi ladki dhundh lena apne liye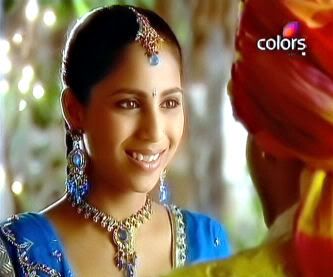 Veer: pitahji...apko nahin lagta ke humme ab Deepti ko sasural bhej dena chahiye
Ajaypal: bilkul nahin...aur waise bhi Deepti sach keh rahi hai..apko bhi ek rajkumari dhundh leni chahiye
Dharam: pitahji veer ko pyar ho jaye usse pehli toh kayamath ah jayegi
all laugh
In Amargardh:
Vanshika is in her room when Sanvi comes in. Vanshikha was annoyed about the conversation with her mother
Sanvi: kya baat hai...humari pyari behen aaj itni parishan kyun hai...
Vanshikha: didi ap kyun kar rahe ho shaadi Dharam se
Sanvi: kyunki ye humara kartavya hai...do rajya ko jodh na....aur waise bhi kya pata shyad Dharam humare sapno ka Rajkumar ho...tu ah rahi hai na kal mere saath...aur kya paata tumhe tumhare sapno ka rajkumar wahan pe mil jaye
Vanshika laughs at that
Vanshika: humare sapno rakjumar lakhon mein ek hoga
Sanvi smiles
Sanvi: Vanshikha apne sapno ki duniye se bahar niklo...aisa koi rajkumar nahin jiske sapne tum dekhti
Vanshikha: hai...mujhe pura vishvaas hai..par ye waqt mere sapno ka nahin...apki sapno ka hai
Sanvi hugged her sister and hoped that Vanshika's dreams would come true
Precap: Sanvi and Dharam hav and eyelock
Enjoy
Shona


Edited by **Shona** - 24 October 2008 at 9:59am