Hi Friends,
Here's the special post for my janu Raj, who is celebrating his 33th birthday !
" Childhood ... the most beautiful of all life's seasons. "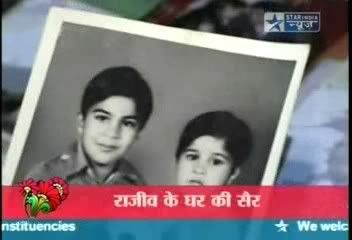 Exactly 33 years ago, a little baby boy was born in Jaipur, the city of forts. His father, an army officer and his mother, a housewife already had a son before him, Sanjeev. His family had to shift from one place to another due to his father's job. As a child, Rajeev was a shy person, but yes, he was a little naughty too … not very though (as he says in an interview).
But his naughtiness was well harnessed by his mother (watch the video with his mother) who was extremely strict with her 3 sons, the youngest, Rahul. Rajeev tells his audience that his mother had locked him in the bathroom, had hit him with broomsticks and slippers when he used to do anything naughty! Rajeev believes that it was because of all these beatings that he has become what he is now, a more sincere and a gem of a person, who values the values that his mother has given him. He also recollects that when he was young and when his mother used to be very angry with him, she used to yell at him saying "I wish God would never give a child like you to anyone!" … but hearing this his mother says that she now believed that having a child like Rajeev has been a blessing from God. She says that she wanted Rajeev in every life she lived. Rajeev is very close to his mother. He is so caring that his mother calls him her daughter because of his caring nature towards his mother.
Happy Birthday Janu Rajeev
Hamesha Dua Maangi hai KHUDA se
tumhare khushiyon kii

May U have the Best in the World
and always wish for a really good future for u
"Your birthday is a special time to celebrate the gift of 'you' to the world."
Though special times like birthdays
seem the nicest ones by far to tell you very lovingly
how wonderful you are
You surely know you're loved a lot
each day the whole year through
And are always wished the special things
that mean the most to you.
Happy Birthday!
Of all that makes you YOU.
Count a blessing for each candle Have your cake and eat it too!
Unwrap this day and savor it And all the love that's there
Send a dream-wish straight to Heaven on the wings of prayer
Remember what a blessing you are Even after this day is gone.
You're a gem, a priceless treasure Let yourself shine on!
"Today is your day to celebrate
your day to be the star, though you are always a star.
so here we are sending you all the way so many stars who will bless you and shower upon you the nicest things in this world, all those which you desire and deserve.
"we pray your day is filled with love
and joy of every kind
May the world rise to greet you
we hope these things you find: Joy, peace and happiness
contentment in your heart
May u find all these spirit fruits
the ones that you impart..."
I Love You Jaanu
A person with a cutest smile,
And talent so great,
For him and for all of us,
Today is a special date..
He makes us laugh, he makes us cry,
His characters just spring out..
And when he's off the sets also
He is a hero without a doubt...
On this very special day of yours,
I wish that your smile never,
Leaves your face,
That success lifts you to the top of the world,
And your joys increase, but never get over..
I hope you have a rocking day,
And wonderful year ahead..
'Coz you deserve nothing less..
Like a great man once said..
"Ask not for you want, but what you deserve, as what you want may be far far less than what you truly deserve.."
I wish you all the success and happiness in the world jaani wont write any lengthy note coz if i wuld start i would write theisis.....to tell u how special u are 4 me n u have a very deep n a special place in my heart...........what u mean to me.........im a bit bad at expressing myself librianz are like that........on this spl occasion all i want to say is.......happy birthday darling.........have a happiest 16.........and a wonderful life ahead.......always remainn my sweetest heart
May All Your Wishes and Dreams Come true............Have Lots of Fun On Your Birthday and Alwaysssss
Happy birthday, Raj janu..!
You are always close to my heart
Wish you all the happiness and joy in life...and fulfillment of all your dreams and wishes...!!!...keep smiling always...!!!
There are no words to express how much we love u, but we do our best to show our love....
But all this is not enough, coz u r the best and u deserve the best....
I simply admire u alots...
Love u a lots
Nida