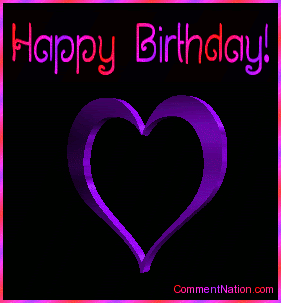 You are

a person who loves, who cares,

who sees a person's need and fills it,

who encourages and lifts people up,

who spends energy on others rather than himself

someone who touches each life he enters,

and makes a difference in the world,

because ripples of kindness flow outward

as each person you have touched, touches others.

Your birthday deserves to be a national holiday,

because you are a special treasure for all that you've done.

May the love you have shown to others return to you, multiplied.

I wish you the happiest of birthdays, and many, many more,

so that others have time to appreciate you


AS MUCH AS I DO






Happy birthday for today,
I'm here for you, on this special day.




Happy Birthday Means Much More
"Happy Birthday" means much more
Than have a happy day.
Within these words lie lots of things
I never get to say.
It means I love you first of all,
Then thanks for all you do.
It means you mean a lot to me,
And that I'm proud of you.

But most of all, I guess it means
That I am thinking of you
on this very special day,
Happy Birthday.




I wish you a year full of sucess, happiness, achivement, coz u deserve no less!!!!!!!.......

I wish that I could write my name everywhere, then u can see it, and say, this is my fan!!!!!!!.......

You are a star, but not only by acting, but by heart!!!!!!!........

I can tell you that I love you, but these words are not enough to express what I feel, I wish I could find the right words to express!!!!!!!........





Love,
Zee


Edited by farislove - 18 October 2008 at 8:49am