Welcome Freinds to Another Discussion Here at CFC Section!
Well To be a little different this time, i want to ask some questions before we begin any discussion
The Main Topic We'll be discussing this week is:
Where does Popularity of a Celebrity Couple shine more?
I know, i know most of you there are thinking, what the hell is dramaholic talking about
Well here is a little insight of what i mean:
Or put it this way.. Hiten Gauri were more popular before or after marriage?

Do Reality Shows Help Boost a Couples Popularity?
OR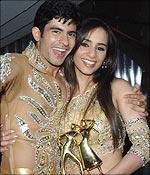 I've seen some celebrity cases in which they share fabulous chemistry on screen, but offscreen the couple hate each other or are married with somebody else.. Does this affect the target audience of the show/movie or couple? Will this decrease the number of fans?
I remember one show i watched where the couple was adored by all, but offscreen they hated each other, which decreased the popularity of the couple.
I Hope we get good input, i'd love to read feedback from everyone, i've Have been thinking about this since some time now!!
Happy Discussing!:)
Love,
Celebrity Fan Clubs Development Team


Edited by dramaholic - 08 October 2008 at 11:16am