This FF will start tommorow
this is an open to all FF
the whole concept and character will be posted tommorow
OK guys this FF is offically started
well most people know about an open FF
soooo if one person continuios then the oher continues after that
me, salima and aneesa were talking about starting an open FF
after SKL - shadhi ka ladoo
we have decided that, SKL will be closing soon so starting a new FF would be a good thing
here's where the whole FF starts
In a college....... Angels high
With The most Annoyest teachers......
Atul - Chemistry teacher
Mayak - Art teacher
With more of the hottest teachers that drive some students off their room .................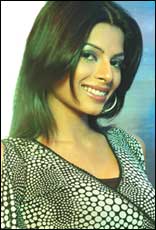 Anjali - Sciene teacher (biology)
Nuper - Maths teacher
Now with 4 new entries in the college
their whole life changes.................
Good or Bad
4 students
Thier lifes from
hardship
friendship
jeoulousy
and
Love !!!!!!!!!!!!! ..............
A hot chocolate girl
come to Angels high to complete her dreams of becoming a doctor. With her joining a new school, will her whole life turn upside down or will falling in love be the best thing for her ????
Mr. playboy
gets wta it want whenever he wants
pyaar, isqh, mobobbat NOT in his dictionary
He loves playing around with girls
Angels high is one of the new college and with hot girls roaming around armann could never leave a chance like that
but he could never hurt a girls feeling
but what happens when one girl comes and turns his life into a living fairytale ?????
Quite girl
bolti kaam aur karti zayada
a sweet innocent girl
believe in everyone
she loves her parents a lot
and now coming in angels high will her life be a heaven or a total hell ????
A loving guy
more off a perosn who'll get a girl around him even without trying
does wat he wants
he believe's in love and his waiting for his angel
and coming into angels high will his angel be just around the corner ????????
A hot new story
with the hottest character from T.V
new love that can be found in angel high
Love in College????????
Siggy Made By me
plzzzzzzzzz give credit
OK guys
who ever wants to continue this Ff plzzzzzzz PM me and tell me if u want ur name to be added into the member writing list


Edited by swansea - 27 October 2008 at 4:49am