Originally posted by Power20
Ande ka funda-la-la-la--la-la(song from Jodi no. 1). I am still in PH almost kiss haze so pardon the late class. But what to do...I was so distracted yesterday that I couldn't write my pathshala even after trying for 2 hours. Ask Rakshu Di if you don't believe me. I kept complaining "I can't concentrate" and then watching the 3rd part of the epi
again and again and again and again and again.....
and she was like "You still trying?"
Anyway a word of caution. I am wacked credit PH Ahem scene, so this lesson is gonna be fultoo wacky.
Aao sikhao tumhe ande ka fanda, yeh nahi pyaare koi mamuli bandaa........*sings*
So Here is Yesterday's Lesson
:
1. HC and AG are confusing Prem and Heer as themselves. Just observe them, you will notice that in the first part..Prem was not Prem but HC..stealing prasad and then talking so mischeiviously to Heer/AG. Then Heer..notice her smile and laughter..it's not Heer's smile and laughter but naughty AG's smile.
Not that I am complaining mind you. I love Harshiti as much as I love Premeer.
Aha aha........throughout the entire first scene......those two were behaving like themselves....I mean the real themselves. Even when Lallu was shouting in the croaked voice....oooops...I meant singing......Premeer were doing their shoulder magic. I know, thats what Premeer do, but they were constantly nudging each other with a great deal of force....repeatedly........that's a Harshiti kind of thing. Ummmm.......I love one of them better than the other......but dont know which one I like better....Premeer or Harshiti.......but I do know that I dont like both of them equally.
2. Prem loves Prasad so much that he stole Heer's
Can't blame him
I like prasad too so don't mind if I steal it from Prem and umm I may steal him with the prasad too
.....Frankly speaking....I think Prem is adapting a bad habit of ummm......borrowing other people's stuffs without asking for their permission........
. First Harman's file, and now Heer's prasad........
3. Meher and Harman picking up Tanu and Ketan at the same time and Gaya3 studying them thoughfully...Oh man..I want their love to blossom..I don't want their marriage to be fixed so soon.
I want office romance!
Gaya3 go stare at your gaudy jewelleries!
Shoo! Shoo!
Oh that Harman........copycat......kabhi nahi sudherne wala yeh
. Meher picks up Tanu two seconds before that Harman copied her and picked the other one. And Gullu......wow...to good....doesnt she jut love to make her own space in her children's love stories and be an active participant in it?! *joins trivs in shooing her off*
4.
Lallu Gaya3 romance
Why Gawd!? Why!?
And was Lallu trying to feed Gaya3 prasad or choke her with it?
Lallu missing QB much?
Bad(e) Lallu! Very Bad(e)!

Why God??? Why? *in Joey style*
What was Lallu doing with his hand......was he trying to marofy ishara at Gayatri to open her mouth or what? It didnt seem anything like that to me. Lallu please....never try to act romantic.....or act stubborn....or act at all, as a matter of fact. Just sit on your rocking chair and rock all say long.

5. Meher gone Mad(e).
She thinks Lallu-Gaya3 chemistry is the best?
Someone needs to take Meher to a doctor. I think the lack of oxygen from her too tight clothes is affecting her brain. Brain damage possible
but wait..don't they need brain for brain damage?
Haila..she compared their chemistry to Sharukh-Kajol?
Too much prasad Meher?
If Shahrukh-Kajol hears this they will 'to jiteji mar jayenge'. I would have called her Mad(e) if she even compared Lallu-Gullu chemistry with hers and Harman's.......but no, she made Mad(e) people from KGGK's mental asylum seems sane.
She has no brain at all.......or else she would never have said something like that!!!!!!
Kahan aasmaan aur kahaan 1000 feet zameen ke andar. I am sure she is maskaofying her to be in-laws to make her the daughter-in-law.
6. Harman ka POPAT!
Lallu gave him such a cold shoulder today. Haiiiii..Mera dil garden garden ho gaya. I mean seriously the cheek of that guy claiming that Prem is jealous of HIM? Give me a Kit-Kat break
Ohhhh..Kit-Kat
even the name makes me happy. *happy-happy sigh*

Serves Harman right for making Gullu think that he thinks Prem is jealous of him. Kahan woh Prem aur Kahan yeh copycat. He is the true soulmate of Meher. her comparison of couples and his comparison between siblings are one of a kind and they exceed the limit of absurdity that Prem successfully made by saying the following lines " mere samne paida hui thi woh", that he was a living dead without Lallu...and also that he cannot live without Gullu.


7. Unfair Lallu...why give only Harman the cold shoulder?
Why not Veera? She is the root of all the problems. I tell you this Veera na
needs to be put in a padded cell..padded with spikes that is
8. Prem and Heer trying to patch up Harman and Lallu.
You two play "Steal prasad-steal prasad." I am willing to see that for a whole epi. Why bother a good thing?
Ditto........and Prem, so cleverly, sent poor Heer to bear Lallu's tantrums and worthy-of-getting-beaten-talks...........while he himself went and stood beside that copycat.
10. Prem-Heer nudging each other when Lallu is singing to Gaya3. Can't blame them. It was either that or commiting suicide.
11. Veera looked thrilled with her Dad's torturous singing
Did you see her clap? She looked like she got the moon and the stars. And my nephew claps like that when we give him loads of chocolates
She was that happy and excited. Oh wait..I get it...Veera is sadist so obviously she was happy that Lallu was killing us viewers with his killing voice.
Yaa....she did look thrilled. Perhaps she was comparing RR's singing ability with that of Lallu's. And hence deduced that she is so lucky to be listening to Lallu singing and not RR.
12. So the three musketeers are playing and one of them is acting bratty..like Harman? Hmmm..Harman goes and scolds them and then shoo's them from his room which looks exactly like his office.
Meher comes in still suffering from brain damage due to lack of oxygen and shoo's the children in a nice way.
Thats why I cant tolerate that Harman.......he scolded those kids and shooed them off.......he should have thrown those brats out of the window...........Anyway, as he never does the right thing........what can I say now?
13. Harman claims that he scolded the children coz he couldn't think...Ermmmm
Ya that's the children's fault. Uh-huh. Very right. The children stole his thinking ability...not that he had much anyway but still. Oh wait.....Oh wow..umm so he couldn't think coz Lallu is angry on him. And what was that?
He will go mad if Lallu doesn't talk to him soon?
I am telling you this Lallu does black magic on his sons. They are weirdly attached to him
You bet!!!!!! He would go mad(e) if Lallu doesnt talk with him?! Really???? Any insane people would through their brain out if Lallu starts talking........and here he says that he will go insane if Lallu doesnt talk. Ullu ka Pattha........apni sunehri kismat pe khush ho....instead of complaining.
14. Meher tells him to go sit at Lallu's feet. Ohmigosh
How will that help? Besides killing Harman with the fumes...uh..nevermind, I see Meher's master plan
I is ismart!
Meher did say that when when her bauji was angry with her she would go and sit on his feet. Little did she know that Ballu, in fear of having paralysis, would hurriedly forgive her.....so she ended up giving Harman the same advice, in this case, sitting at feet.

15. Gaya3 eavesdropping on the convo of Meher and Harman
Woman get a life! Without Lallu that is
I should get a career in counselling..I give awesome advices
Anyway..Gaya3 is happy with Meher and
Her-man
(get it?
I am so wacked today) talk and she tells Lallu about it. Lallu looks smug
And I look
She glances at Meher who is going "Fi-Fy-Fo-Fum" by scaring the children, pulling them towards her when they are running away. Meher
go scare
your man
(get it?
LOL!
Plz don't call the mental hospital
)
.......I get it trivs......I get it. Gayatri seriously needs to stop this eavesdropping business.......she peeked Prem's confession moment, she eavesdropped into Premeer's conversation, and now in Herhar conversation.........ishhhh!!!!!!
Meher should also get a life and make Harman herman...........or she may as well scare those kids. I dont mind it. Scaring those kids sounds good............just as long as they dont run off to hide in Premeer's room or any other room where Premeer are having their private moment.
16. Observation: Heer is wearing her MM ke saath sagai wala dress
The gang was
over it but you have to understand guys..Heer barely has clothes..she cannot afford to give them away.
Granted that Heer cannot afford to give away those clothes..........but she should wear MM wala clothes casually.....not in some pooja or in any other occassion.......she should have worn the dress that Prem gave her. Anyway, I dont mind the dress as well as long as MM ki yaadein doesnt come along with it.................
17. Heer is on the first floor getting Prasad?
Didn't was see a HUGE plate with MANY MANY Laddoo..as prasads downstairs? Remember the children tried to steal it? HM scene? Ah well who cares as long as we see scenes like this.
I am sure those monster type kids ate up all of the sweets. Or maybe that Dheer saw the golden opportunity while everyone was busy in their room, Meher scaring the kids, Lallu and Gullu engrossed in their talks...........he ate up all of them.
But logic wise, yeah.......why was she taking ladoos from upstairs. Did Prem eat up all of the prasad????? hmmmmmmmmm.......................
18. Prem clutched Heer's waist
and placed his hand on her mouth coz the git started calling "Chor Chor." Chor are not like Meher and Prem
, Heeriye..they don't care about stealing prasad from you. Anyway..what happened to the plateful of laddoo's? Ehh..who cares
Prem in purple
kurta
grinning intimately at Heer and saying he wants to talk to her alone.
*fans her self with her hand*
Heer flustered and breathing heavily
*fans herself with a newspaper*
Prems hands on Heer's waist when he is backing her to a wall.
Heer asking what he wanted to talk to her in a low breathy voice.
*fans herself harder*
Prem....
What? Oh yes the lesson...Ummm....I is blank...
lemme watch the scene again
Ok...Prem saying he loves Heer's eyes
Prem caressing Heer's zulfein and complementing them
and Heer savouring it with her eyes closed...
*throws the newspaper fan and clutches her pillow*
Prem saying he wants to drown in her eyes
*buries her face in the pillow and is all red
*
Heer shying and bending her head but Prem nudging her face to him with his finger
Prem commenting on Heer ke kaapte hoant.
*throws a glass full of water on her face*
(What does Sear jata hu mean?
)
Anyway he says that he then loves her lips more then her face (Note here that
AG and HC's
lips twitch in laughter right at this point. I bet they burst out laughing at this point.
AG's lips kept twitching in laughter in the whole sequence..watch her properly, you will notice it.) Then he comes veryyy close to Heer
*throws a jug full of water in her head* and says that more then her smile he loves
(lips aligning and close, so close to a kiss)
eggs
HUH?
*Pauses in the process of dunking 2 Jug's full of water on her head*
He loves EGGS more then her smile and lips
He then proceeds to give a lecture on egg's and the many benefits if eating it day and night, sunday or monday
Sweety Prem..what about cholestrol? But nevermind that
I will eat eggshells if you tell me to
BTW, did anyone notice how many times Prem said ande and egg? I did
Ande, 13 times and 2 times eggs
I wont describe the scene and spoil it............all I would say is that.........I loved Premeer's expressions, loved their chemistry, loved their body-language, hated their dialogues..........loved the Egg dialogues..............but the so-called romantic talks were weirdly stupid for my part.
19. Tanu is choooo cuweet. I don't care if the gang is planning on giving her Heer's flying lesson
BUT I simply adore this kid. She is the cutest! She looked so adorable with her hands folded and studying Premeer like a warden catching her wards sneaking in late at night
Tanu
Comeone guys..how can you guys hate her? Just look at her: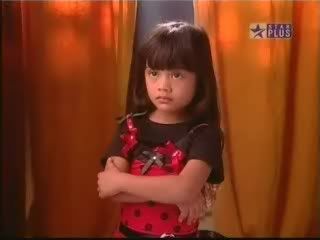 She is soooooo cuweet! *pulls her cheeks*
Oh My God!!!!!!!!! Don't even get me started on this kid. I absolutely hate her and her brothers from the bottom of my heart. Call me heartless or mean or even meaner stuffs...........but I will only come as close to appreciate her if she gets Premeer married. I feel like tieing her up with Veera and RR and dump them on planet crap. *prints out tanu banu's pic and marks a red cross upon it*
20. Heer
Ohmigosh.
*clutches the jug full of water*
She stopped Prem from leaving and is backing Prem to THE wall this time. Gooooooooo Heer!
Prem looks so deflated
All that planning and the romantic mood gone down the drain
Him asking Heer what she is doing and to forget it coz the house is filled with kids..someone or the other will barge in anyway was so adorable. *pulls Prem's cheeks*
Wow
Heer is soooo close to Prem
*sprinkles from water on the face from the jug I am holding*
Heer caressing Prem hair now and repeating his dialogue
OMG
She placed her finger on his lips as she says that she loves his lips!
*dunks the jug full of water on her head*
Prem looks miserable
but Heer goes on and says she loves his eyes more. Heh? more then his lips?
Idiot.
Oh wait she back to his kaapte hoant.
*goes and dunks her head in the sink*
Oh God Prem looking at Heer but I think he knows there's a punchline coming so he doesn't look very excited
so he proposed Heer to go downstairs again
But Heer continues undaunted.
She gets more close to him
and says that more then his lips..she loves
Eggs
Then she teases prem by repeating his dialogues and laughs and Prem has "I-knew-it-was-too-good-to-be-true" expression
and pretends to be angry and leaves from there..when leaving he has a smile on his face though
Heer runs behind him to manaofy him
The director better not cut the Heer manaoing Prem scene from Monday's epi
or I won't be liable for the actions I take against them
I absolutely love Prem's dilogue 'bacche bhare pare hain yahan'....yaa, just dump those kids somewhere...............And Heer is so naughty............so chweet. Prem's jhoot-moot ka gussa........ufff.......I would kill anyone.....well no...not anyone...maybe.......Gullu.....to see that expression on Prem's face everyday. The jhoot-moot-ka-gussa-wala-smile............WOW!!!!!!
Trivs......I am with you.......I wont be liable for my ations either if they dont show the manaofy scene............*practices.....I have the right to remain silent.Anything I say, can and will be held against me..........I have the right to remain silent. Anything I say can and will be held against me......I have the right...................'
21. Lallu sitting alone
inviting some Batra guy to his house
Oh no guests means drama
Anyway...Harman comes in and sits near Lallu's feet like Meher advised him too
and tells Lallu to forgive him or he won't leave him alone. *studies Harman keenly...
he's not dying
Badluck..probably is immune*
Lallu gets worried coz QB is supposed to call him na..anyway he hums and hah's and tells Harman he needs to give Lallu a promise
This guy will NEVER learn!
Harman says he will give him any promise he wants coz due to him Prem was insulted and that pained Lallu more and so he will fulfill all of Lallu's dream
Oh no..even dreams about QB?
BTW, that dialogue sooo did not make sense
but who cares..they can do Jingalala dance together and I won't give a fig.
Ok maybe I will hide under the bed but I still won't give a fig.
...........oh sorry trivs.......got busy imagining how harman would look sitting on Lallu's lap.......godiwale........
Anyway, yeah trivs....guests means drama...........and due to the past records of the disastrous parties........Lallu actually has to call up and invite people....otherwise the previous guests would just appear like that.
QB supposed to call?!!!!
........too good trivs.........I would love to hear that conversation...........When does Lallu's dialogue ever make any sense???? I am still stuck at the 'epitome of nonsense-sic dialogue' that took place just before Lallu bent on his knee in front of Gullu........
Ok Patshala Khatam! This weekend I am giving you all
Homework
Study hard!
Ice creams, cookies and chocolates before you all leave!
~Triv