Heyy Twilighters,
OMG OMG OMG!! i was * dead * when I saw these pics
OMG!!Best pics of rob!!
They r the VMA's!! Rob and Kristen looks nice!! i loved her dress!!
AHHHHHH ROBB lookss hotttttttttttttttttttttttttttttttttt
OMGG OMG OMG!! I fainted *
OMG!! His hair..clothes..expressions..EVERYTHINGG
SOOO lovin him!!
I loveed this pic of ROBB!! loookin hotttttttttt
* Thanks to sarahdoesdesign for the pics *
found it on LJ!!


OMGG!!! HE LOOKS hot in thereeeeeeeeeeee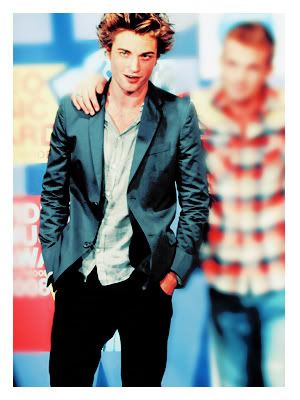 Like a model!!! AHH!! TOO HOTT!! Kristen looks soo nice!!

omggg!! I mm lovinn his expressions!!!! OMGG!!!
Kristen / Rob / Taylor pics!! I LOVEED THESE PICS!! Adore them!! all threee looks awesome!!!
Enjoyy guys!! Will edit with more picss!!
till then enjoy!! If I find a video...will post it
OMG!! cant wait to see the video!!
ENJOY! all Edward Lovers!!
Ayesha/Ashu


Edited by *Ayesha007* - 10 September 2008 at 6:51pm