(Courtsey of Tumhari Khushi)
Welcome everyone to
Karan & Shilpa
Armaan & Riddhima ( Original) Heaven 142th thread
Most Imporant rule to follow:
Please, from now on, no discussion on DMG forum, No discussion on Karan-Sukriti, and no discussion on Sukrti vs Shilpa. Am tired of these 3 topics. THis is a HEAVEN dedicated to KaSh and I appericate if we discuss, their previous scenes, their friendship. There will be no discussion on current DMG as we are bound to have comparisions of it, so please stick to the topic
.
Rules - Follow them.
Rules:
1. Discussion of Armaan and Riddhima is allowed in this thread. Like the title states, This is a KARAN/SHILPA thread which means there should be no discussion whatsoever of SUKRTI KHANDPAL who is going to be playing new Riddhima. No bashing of any kind is allowed here
2. Discussion of KARAN-SHILPA is permitted as well, but if you discuss personal lives, make you sure you don't bash the actors, and their respective partners.
3. There should be no discussion on current DMG - NO SUKRTI KHANDPAL discussions allowed, NO new AR stuff here - don't comment on their acting, chemistry etc. This is for Karan and Shilpa fans. We have enough topic to discuss and we are not people who will stoop low to do this, so please avoid this. Let the heaven remain as Heaven and not as a battlefield
4. This thread is dedicated to true KaSh fans which means if you have accepted the new AR, Please do not distrub our peace and interfere in our matters. We will make sure that your actor does not get bashed here and we appericate if you don't either. We strive to provide a normal and clean atmosphore. and Please it's a sincere request, Please remove of any Karan-Sukrti fan art if you have in Heaven or turn your signature off so we can't see them.
5.Anything discussed in the HEAVEN should remain in the heaven. Should not be leaked to other threads or other forums.


This fan club is dedicated to Karan Grover and Shilpa Anand who played Armaan Malik and Riddhima Gupta for 1 year in the television serial: Dil Mil Gaye.
This is dedicated to all the people who love the original AR as well the Pair KaSH - which is christened by their fans for Karan and Shilpa.
Dil Mil Gaye...
The Cast Members...
Karan Singh Grover - Dr. Armaan Malik
Shilpa Anand - Dr. Riddhima Gupta
...................................
Presenting...
ARMAAN & RIDDHIMA
Heaven has always been created to put a smile on people's face and we hope to continue to do that! Therefore smile and enjoy the Heaven!
Also a note - Monitoring the thread
We need people in different time zones to monitor this thread when others are sleeping. I live in US - SO when all the people from India come, I am asleep so I need people to monitor the thread for the 7 days of the week
Week of 5/30-5/6
Friday-
Sat-
Sun-
Monday-
Tues-
Wed-
Thurs-
Courtsey : Amna ( P2-Saksham)
Introduction to the Actors who play the Role:
Armaan - Played by Karan Singh Grover. Has acted in various serials. But his most popular has to be Sharad in Kasuati Zinday Kay & Abhimaniuyu in SS.
Dr. Armaan
(Pictures taken by jenny 1000, Don't claim as them your own)
Dreamy right, Am I having all girls fall in love with him?
Moving on.. We have Ridimaa or Ridz, or Ridzie whichever you want to call her..
About the actor: Shilpa Anand is to be debuted on this show. Has done various south movies and has done coke ads with Aamir Khan and Lux Ads with Aishwarya Rai. She has also done a bollywood movie called Iraqaar by chance.
KaSh CHEMISTRY:
Defination of KaSh - The magic of Armaan and Riddhima.
Why is KaSh so missed??
An actor is an actor until the actor gives a meaning to the character. Shilpa is the soul of Riddhima, because of the way she made the character so loveable. It is impossible for forget the 10 months of Riddhima that she should us - Sometimes funny, sometimes sweet, Sometimes angelic then sometimes Rude - Each scene of Shilpa be it with Karan or anyone else has given a new dimension to the character of Riddhima and therefore she is irreplacable. Riddhima is only one and It will forever remain as Shilpa Anand as she shaped the character of Riddhima and made it so loveable. If Shilpa is there, Karan is there and together they spell KaSh which defines truly Armaan and Riddhima which means Desire ( Armaan) and Full of Love ( Riddhima).
- Written by Jenny1000 - (India-Forums - Copyright of KaSh heaven)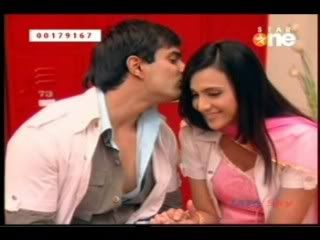 AR Heaven: Hall of Fame
Read Previous Threads:

Armaan & Riddhima/ Karan-Shilpa Heaven: Part 53

Armaan & Riddhima Heaven: Part 54


123:
http://www.india-forums.com/forum_posts.asp?TID=992117&TPN=1&#17339510

124:
http://www.india-forums.com/forum_posts.asp?TID=993112&TPN=1&#17364176

125:
http://www.india-forums.com/forum_posts.asp?TID=993644&TPN=1&#17380218

127:
http://www.india-forums.com/forum_posts.asp?TID=996198&TPN=1&#17437850

128:
http://www.india-forums.com/forum_posts.asp?TID=997607&TPN=1&#17469463

129:
http://www.india-forums.com/forum_posts.asp?TID=999363&TPN=1&#17507803

130:
http://www.india-forums.com/forum_posts.asp?TID=1001071&TPN=1&#17540680

132:

133:
http://www.india-forums.com/forum_topics.asp?FID=149
134
http://www.india-forums.com/forum_posts.asp?TID=1005925
135:
http://www.india-forums.com/forum_posts.asp?TID=1007412
136:
http://www.india-forums.com/forum_posts.asp?TID=1010655
137:
http://www.india-forums.com/forum_posts.asp?TID=1012918
138:
http://india-forums.com/forum_posts.asp?TID=1018826
139:
http://india-forums.com/forum_posts.asp?TID=1023037
140:
http://www.india-forums.com/forum_posts.asp?TID=1024662
141:
http://www.india-forums.com/forum_posts.asp?TID=1028083