Hi Friends,

Happy Raksha Bandan to all the members of India-Forums.com!!!
Raksha Bandan is just the perfect time to give your siblings your deepest feelings and if words fail you, these cards will definitely serve your purpose.
Raksha Bandan E-Greeting Cards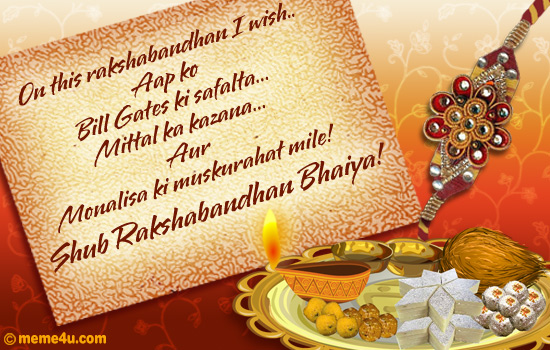 Wish your loved ones world of Love & Happiness throughout the Life.
Send your siblings best wishes by selecting a card and sending them. And above all, all the cards on Meme4u.com are FREE!!!
NEW FEATURES:
YOU CAN IMPORT all your GMail / Yahoo / AOL / Plaxo / or other online Address Book directly from Meme4u.com and send it to all.
Now you get points on per card sent and being viewed by the recipient through Meme4u.com and which will be giving access to exclusive features like Video Cards / Photo Cards / Printables and Quotland on Meme4u.com.
So let there be NO EXCUSE for NOT wishing your loved ones this year... Last but not the least...
To all my lovely sisters who calls me Bhaiya ... do not forget to send me a rakhi card and would try to reply to each of them.
Happy Raksha Bandan once again to all !!!
With warm regards,
Vijay Bhatter


Edited by vijay - 16 August 2008 at 4:54am