-Anamika(the first member of RP FC)
What happened before:
[this starts off from where the episode ends where rajveer n naina were lookin in each others eyes......
their eye contact is broken by an orderly who informs raj that ghelot is here to see him..
they part reluctantly..........ghelot asks him to find chandra....coz the army has aresst orders for rajveer..... n leaves.......Nair gets a call from the army headquaters to report there immediately.........
he leaves in a hurry.........meanwhile the very same night....ali asks pooja out...........yudi apologises to aalekh..and invites him out of the academy coz he wanted to talk to alekh and neelu...
and huda plans to spend some time wid his phoolan n is just about to ask her out.........but......................to his dissapointment he gets a call from is mummyji to come home urgently b'coz someone was trying to take their fields by treachery since it was saturday.....all were allowed to go out of the academy since they had no drills on sunday...by now all the cadets had left ...but yudi had come back to the academy to take some pills for alekh....met rajveer on his way who gave him the pills from infirmary and yudi left.......]

Rajveer closed the infirmary door and was heading back to his room........meanwhile naina was still in the games room she was lost thinking about all the happenings in that happened in these few dayz..... finally she was stirred out of toughts as it was the time for lights out.......n started walking towards the hostel
rajveer again stopped at the wall of fame .....he touched the part wall where navins photo was placed........he had tears in his eyes..... and determination...to prove his friend innocent.....and he said these words.....dost main tujhe tera sanmaan lautake hi rahunga chaahe jo bhi ho....chahe mujhe 'apni jaan hi na kyun na deni pade'.........
n within a fraction of a second he gets a tightly slapped by someone........it was very hard.......
It was naina who slapped him.........she said nothing but tears rolled down her cheek...she couldnt take those words...'mujhe apni jaan hi na kyun na deni pade'...n she left raj and ran towards the hostel with her tear filled eyes.......

rajveer gave a fake smile and said, "tum mujhe kabhi nahi samajpaogi na naina..."
he started walking back towards his room and sat on his bed with a thud...he was heartbroken....he'd lost all his hope ...

just then he got a mail.........but he was least bothered to read it.........



meanwhile as naina ran out of the academy it started pouring heavily...but she couldnt get a grip over herself she entered her room all drenched....her body drenched with the rain and her soul drenched with the pain............
she tried to get a grip over herself and went to the

washroom and tried to take a shower but started crying aloud with the water gushing out of the shower on her head.............
Rajveer was also upset ...he too headed to take a shower to ease of his pain but all this was in vain...........it did not help him too...........


meanwhile he got a call on his cellphone

Naina got out of the bath and wore a white color satin salwaar kurta..........the colors in her clothes seemed to be meaningless...hence the white color.........
She sat with her back to the door, her body hunched over, arms wrapped tightly around herselfwith her hair open which were half dried by now.
"what do i do..?," she thought as silent tears streamed down her face. She was confused about the feelings she had for him... ... she didnt know why her heat ached so much...........
Wiping impatiently at the free flowing tears she stood and began pacing the floor in her bare feet towards the window..

Naina turned back towards the door, finding it open she stood staring at it stupidly for long moments.

Standing just inside the room he watched her, taking in her disheveled appearance and tear-streaked face.


He was shocked to see not anger in her dark eyes, but fear.
His eyes had tears, sadness, tenderness, love.......

Filled with tenderness, hecame close to her and wrapped his arms around her and said, "Are you okay?"

He didn't say much, but wrapped his strong arms around her again and whispered, "It's okay, ... I am with you... just let it go. "

So softly he cupped her face, thumbs gently wiping the damp trails of tears..a fresh tear rolled down her cheek..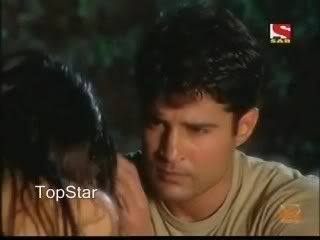 At his touch she melted, she was dizzy with relief as she clung to him. She wrapped her arms around his neck, her lush body pressed tight against him.........each movement eradicated all the fear and anger.They found a deep understanding of each other emotionally and physically, coupled with the ability to cleanse their hearts and souls through intimately knowing the other.
But somehow she still wasnt able to get a grip over herself....she was guilty abt what she did to him....thankful to him for being with her always inspite of her ruthless behavior to him....and a feeling yet so new n special but she couldn't comprehend it....this feeling was beyond her understanding and reasoning........

All this while she was in his arms and was trying to snuggle in as close as possible to him...sobbing and trying to figure out what to say..........

After a while or rather an hour or so,
she had stopped crying but wanted to say something but didnt want to detach herself from him.........she felt secure in those protective arms.....

He too couldnt interpret his actions all this while he stood by her and today she needed him the most...
she was shattered ...n all alone enthrusted in a situation for which he was partly responsible....
he definately couldnt leave her like this but was scared coz being so close was stirring in him those desires which were forbidden.......

she forgot that he is her teacher and mentor for that moment..........................but all she realised was that he was someone special, someone she will long for all her life..... though she knew that she didnt deserve him now she could sense a feeling of hatered and disgust arising for herself ... just as rajveer she also developed a guilt for all her deeds but ther was a desire in her to be close to him..
He made up his mind..he couldnt tarnish her image ....and endanger her career for his desires....he had already hurt her a lot.............He picked her up gently in his arms and carried her towards her bed.....Nobody ever touched her body with such love and desire as he did.......The light touch of his hand on her bare back made her shiver.......He placed her on her bed.....and pulled a sheet on her... n then .........

as he turned to leave she held his wrist, he turned back...n saw an childlike innocence in those eyes which he had not seen before, which pleaded him to be near her, which told him how lonely she was feeling.........

A question flitted through his mind.. Should he..?.. He took a step towards her......
They were as close as two bodies can be without actually touching. She tilted her head up to say something as he enfolded his arm around her, warming her shivering body. She trusted him more than anything.....

Something in her innocent actions gave him a boost in confidence, and he smiled at her, squeezing her hand that she had been holding him with so far very tightly. Her girlish, almost shy response excited him instantly, and without a word he took her hand and brought it to his lips, kissing it softly, then turning it over and kissing her palm. He felt her tremble slightly''''..

Leaning down, he touched his nose to her hair and breathed deeply. Naina closed her eyes, suddenly feeling faint. She could feel the energy rippling between them, a hidden wave of need and emotion. For the first time in a long time, she needed to be touched......... It was a heady experience, to feel beautiful.

She ran her open hand up his stomach and chest, on the black shirt softly beneath her fingertips.

She felt his heart beat against her hand on his chest and his arms tighten around her. "I love you..." he whispered in her ear, she smiled, allowing him to wipe the tears from below her eyes.

She felt her heart begin to pound as his touch deepened against her, he gently ran his fingers through her hair, pulled her hips against him, trailed his fingers heavily down her back and kissed her heart through her chest. She stretched his arms out away from her to calm him down a bit and pulled his shirt off of him, having to hurry as he found it hard to keep his touch away from her.

Feeling safe within his arms, loved by his heart she felt complete bliss........
They held each other tight, both for some reason feeling as if they could cry, pulling a blanket up to their waists. She touched his shoulder gently laying next to or almost over him as her bed was a single one, "what's wrong ?" he whispered, her lips running along his arm kissing him softly. She looked at him fear within her eyes, "I don't ever want to lose you," she said in a sad tone of voice. He felt a mix of emotions get caught in his throat and a need to love her like never before. He wrapped his arm around her trying to get closer.

She was becoming relaxed under his almost magical touch and she almost fell asleep in his hands........She snuggled close to his warm body and drifted off to sleep.
He lightly tickled the base of her spine.....through her soft satin clothing
She opened her eyes and raised her head to look at him.....his lips brushed her collarbone'their eyes met'.

His eyes didn't leave hers instead he came closer to her heart was racing,, his hand touched the back of her neck sent chills through her, woke her entire body, slowly he drew her to his lips, their first kiss, so soft, slow, so warm and inviting she didn't want to stop, with his other hand she could feel his fingers through her hair, the kiss was the beginning to an exciting adventure,, each muscle in her ached for his hands, they felt so good against her body, their kiss lasted an eternity.......
It felt so right so magical....

The blush that covered her cheeks now covered her entire body'
His lips were warm and something about touching them made her feel more feminine, more sensual than anything else ever had'
They were both vulnerable, she realized. To their needs, to their desires, to each other.
Seeing his reflection in those beautiful eyes .......... Laying next to her at night, feeling her soft skin next to his. He could just melt into her body completely .

She felt his arms encircle her. She felt his heart beating beneath her cheek as she laid her head upon his well defined chest.

Her hands didn't hesitate as they moved over him,'.
Her body moved against his, pressing, seeking. She seemed to know his movements as he knew hers, before they even happened''..

She wondered if others understood what she hoped was true love Wrapped in tangled sheets, the feel of his heartbeat beneath her palm, she knew this feeling she herself hadn't truly known until moments ago. She'd given more of herself than she'd intended, shared more than she'd imagined, and risked more than she should have dared. But she had no regrets.

With him it had felt right, safe, and there was contentment and a level of comfort like she'd never known. She smiled and tried not to worry what tomorrow would bring as they both succumbed to the numbed sleep of satisfied lovers' in each others arms....

She had not really slept.... awakening, dreaming, sleeping a little, awakening again' unable to really sleep, thinking all night long of what was happening to her or rather happening to both of them.

That night they touched, tickled, kissed and loved being so close........
They came closer to one another in innocence'.innocence of the pure feeling called love'
They knew they just became one.


Edited by riyaa_1985 - 02 August 2008 at 10:18am