Originally posted by My one and only Martian chirkut!
Saba:


Dearest cutest and ever adorable khair!!! The little bhoot!!!....( well not that little!! )
Not sure where to start from... as I am bad in expressing myself... but main yeh zaroor kahoon gi... that you that sunshine which everyone should have in their lives. You are a sparkle which can brighten the dullest atmosphere!! And I hope... I wish... and I pray that you remain like this forever... as ppl like you are made in small quantity..... but with great mehnat. Many Many Happy returns of the day!! Enjoy your day and the year ahead!!! And May you achieve every goal of your life and problems don't even dare to come near you!!!
Loads and loads of love!!
Happy B'day once again!!!
Sabahat
You dont know how to express yourself?! dude your message itself is like an evidence i can give to prove otherwise
I don't how to reply to express how much your msg has touched me. Your msg out of all of these managed to get the biggest smile on my face and made my day a LOT more brighter. Thank you!! I miss you so much yaar!! you dont even come in our group anymore :( and im just gonna go see what the growing gift turned out to be.. the mystery is killin me!! ;) We definitely should have like a chat date soon?! what say? i miss talking to you for like half the night. Ullu jii dont tell me u are sleeping at night these days?!
kidding... I LOVE YOU SOOOO MUCH!!
thank you for always being there for me and for lifting me up from the worst moods into a good one whenever i have come to you for help. mwah! hugs!


Princess:

Happy Birthday Khair!!

The best of friend,
Can change a frown,
Into a smile,
when you feel down.

The best of friend,
Will understand,
Your little trials,
And lend a hand.

The best of friend,
Will always share,
Your secret dreams,
Because they care.

The best of friend,
Worth more than gold,
Give all the love,
A heart can hold.

Well, I think this poem speaks for itself eh! I know, I know, why am I being all nice eh? You must be wondering why I haven't pulled your leg yet. Well, it is your special day after all, so I think I'll leave your legs where they are.
Thank you so much for being a wondering and caring friend. Thank you for all the laughs, all the jokes and for listening to my non-stop complaints. I am lucky to have some as sweet, caring and loyal in my life. I just hope and wish we get to meet soon and you better tell me the next time you're in town or else. Have a wondering and amazing birthday!!
I have a friend
Who is perfect for me
She listens to all my problems
No matter how dumb they may be

She likes herself for who she is
And never tries to change
She tells me to be myself
And that I should never change

She listens to me patiently
But never judges what I do or say
She helped with all my problems
And never went away

I never once felt judged by her
How much that meant to me
That I could tell her all my dreams
And she would listen to me

My friend never goes and tells
What is dear to me
She keeps it all bottled up inside
And doesn't spread it like a bee

I am thankful for that friend of mine
Our friendship will never end
And she will always be there
For she is my best friend

P.S. That's you Khair, if you haven't figured it out yet LOL oh and I'm sorry my message is short and not all that nice, but I'll tell you all about that on MSN (if I EVER catch you there or via PM).
Happy Birthday Once Again!!!!

Lotsssssssssssssss of Love,

Princi!

AHHH my daryling princi jii!! thank you SO much for those poems. I seriously, and i mean SERIOUSLY feel the same for you! so i say the poems right back to you and im gonna sing them to you and torture u
thank you for listening to me and being there for me. i think i am the luckiest person EVER to have you close to me. we shall definitely meet. i swear! if not now, few years from now... but we will meet. pakka! rest of the personal update i want from u shall remain off the board? what say? or should i reveal to the entire world that you are in LOVE with me
oops i just revealed it
so let me finish saying... HANDS OFF PRINCI - SHE IS MINE!!
i hope sharad, and whoever ur new crush is, is reading!
LOVE YOUUUUUUU
Ammmu:

Happy Birthday Khairu diiiiiii!!!
If everyone in the world could have a friend like you... then I'm sure they would all be blessed, and so incredibly lucky. You've just got this persona that makes people want to meet you.... I remember feeling slightly (just slightly :P ) intimated of you first because I had heard so much about you but didn't really know you at all... then we started talking, and when you told me that you're actually a pretty shy person my reaction was like this!
Haha... it's so easy to talk to you, there hasn't been a day when we haven't talked and I haven't had a smile on my face. Thank you for always listening to my bak bak, for always being there for me.. we don't talk everyday but when we do, I just feel so free talking to you.. you're such a great friend, and I hope to meet you someday... have a fantastic day and today, you better not be doing any work at all!! I'll be keeping my spies there, muahahaha
Love you loads,
Ammu shaitaan/angel
dude im being really serious when i say im shy. you ask me one personal question that is a little hard to answer and i will be red, like you can see me turn red
(and that makes me wonder, edward might fall in love w/ me for that resemblance w/ bella?!
blah i seem to be unable to get him out of my head -__- ) i hope to meet you some day too and you missy are great, seriously, great for following my bak bak
not many can deal w/ it
thank you for being there for me jaanu! and somehow this reminds me of the fact that you have THE most sweetest voice EVER! sorry had to randomly add that in
thank you for working so hard for me whenever i needed you. you are the most adorable, hard working, over the top sweet, sometimes naughty and the most loving shaitaan i have ever seen. any more sweeter and you would have been an angel
but shaitaan boss decided to keep you on the dark side
who knows, there are more chances of meeting edward here than on the good side
argh. i did it again! note to self- stop dragging edward in all conversations. geez! anyways, my msg is longer than urs now?! haha sorry. lets end with I LOVE YOUUUU!!
thank you for such a good gift! i LOVE the siggi!! ahh i wish edward was here right now watching me sleep... how good would that be? ahhhhhh. oh chit i was supp to end the msg. ok okay. stopping... now! <3
Khushi:

Helllllllllllllllllo angel!!!!
Happpppppppppppppppppppppy Birthday!!!!!!!! A really special year is beginning today!
Missy, you're finally turning 21 today (if we go by our weird calculation...you're turning 15 today *YAAAAY*!!)
You know how special you are to me...so I think I'm just going to say that no matter how busy the two of us get,
you'll always be in my thoughts and a day without you would be a lost day *nodds* I really hope
you'll never change and stay as amazing and wonderful as you are!
I really hope this becomes your bestest birthday so far, we have a few things in store
for you which might make your birthday really special - even on IF
*Ahem* As usual, I'll send you a detailed message later and sing Happy Bday for you *I'm sure you're thinking
"oh no...please don't do that" right now...haha!*
Happpppppppppppy Birthday again...love you bunches and trunches!!!
Hugs and kisses from your bachchu
BACCHUUUUUUUUUUUUUUUUUUUUU!!!!! WHERE HAVE YOU BEEN?!?!? you busy being! i demand a LONG ... and i MEAN LONG - i dontcare if it has like just aaaaaaaaaa and bbbbbbbbbb's but it should be long - email updating your life and it should be in my email inbox by the end of this week. yup, thats the gift i REALLY want. so im assuming ur gonna give it? gooooooooood thank you
you are so kind
OMG khushiiiiiiiiiiiiiiiiiiiiiiiii i miss youuuuuuuuuuuuuu!!!!!!!!! i cant remember the last time we talked for long. except on fb and then msn chat. but that is SO not how much we used to talk before. :(( i miss our late night dates!! boohoo. anyways coming back to our topic... ME
LOL thank you ... and hey im not turning 15
i said after 16 im going back to being 17 and then i'll stay b/w 16-18 forever
revised theory?!
and seriously ... VERY seriously... SINGGGGGG for me!! i would love that
thank youuuuuuu foooooo the lovellllllyyyyyy wishes. me LOVES you oh-so-much!! emailllllllllll and singggggggggg jaldiiiiiiiiiiiiii!!
(and oh btw jia ne aapka dil liya
)
Sam:

Happy Birthday Khairu, love you very much
I've left more messages in every part of the birthday plan, so blah. Enough for you. =)
OMG *cries* such a short msg from you?! i give you 10 buckets of tears!!
kidding. how many more parts are there?! i haven't read the thread in creative section which has my name in the title
yet but I REALLY want to! so tell me jaldi. me no likey suspense! and youuuuuuu shouldnt hide things from me. coz you know... i can kill you and all?! yea, so spill it out. and even though u didnt say it
i say I LOVE YOU TOOOOOO
mwah!

Hope you have the most amazing year ever!!! i hope so too!!


Here are sigs for everyone to use to wish Khair: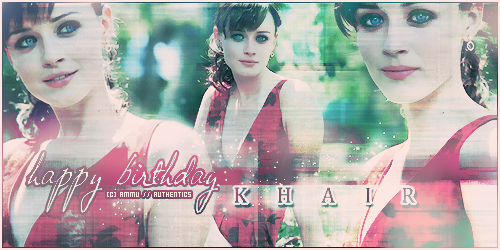 Ahh all i can say is ek se badkar ek!! Khush, Khushi and Ammu -- wow am i lucky to have met you. i always get the coolest gifts EVER!!
and thats why i love u
and btw, why is there no siggi from samyu?! dude,
. after your exams you should make one of IMRAN KHAN for me
coz he is mine!!
i should run?!
okay okay coming back to topic, thank you guys, i love them ALL!! and i love you guys moreeeeee.. just a tad bit more, but hey i love the siggi's THAT much
i know i know, after reading all this you will wonder why you love me at all
*hides*
Love,
Ammu, Princi, Khushi, Khush, Sam and all the rest of your friends on IF
XIE XIE NIIIIIIII to all 5 (and rest) of you!!
you managed to make my birthday VERY special and for that i am really really thankful. mwah mwah!