An adaptation of 'StepMom',
We Are Family
is one of the most awaited films of 2010. The combination of Dharma with
Kajol
is one which has created magic on the big screen in the past but will it this time around also? Promotion of the film has targeted families with brilliant marketing by the ACE
Karan Johar
which is bound to pull audiences into theatres.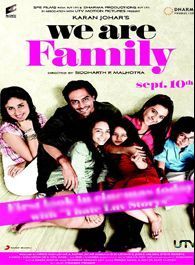 As the curtains open, the story of a mother Maya and her three children (Allya, Ankush, and Anjali) unfolds. There seems to be a perfect family though Maya and her husband Aman (
Arjun Rampal
) are divorced. Things go awry when Aman introduces his children to his girlfriend Shreya (
Kareena Kapoor
) as the children become insecure that Shreya might take their father away from them. Yet, circumstances bring Shreya and the children close and that too with Maya's choice. Why? Well we'll let you watch the film onscreen to find out!
As a film,
We Are Family
is packaged brilliantly with an amazingly talented starcast, renown production house, and a wide target audience of families globally. Yet, with such a perfect package
We Are Family
falls flat. Reasons? The storyline of the two mothers living in the same household just does not convince. One is also left lost at the true reason behind Maya and Aman's divorce. In a society like India where divorce is still a taboo, one wonders what is the moral of this story? Is it ok to have two women in your life and live with them under one roof like
Arjun Rampal
did?
The unrealistic dialogues between Maya and Shreya are also one of the flaws in the film. In the most emotional scenes, the unrealistic dialogues cause laughter. Music, unlike other Dharma Production Films, just does not impress.
But does nothing work in the film? Not true!
Arjun Rampal
is brilliant! He manages to outshine talented actresses like
Kajol
and
Kareena Kapoor
in his role as a father caught between his ex-wife and current love.
Kajol
too portrays her character well! Kareena does a fair job but somehow seems like a misfit for the role. Her chemistry is great with the children but she comes across as a sister rather than a stepmother. The kids are superb, especially Diya Sonecha who plays Anjali.
Overall, expectations are high when you have a banner like Dharma and such a talented starcast.
We Are Family
does not live upto these expectations as the first half entertains but the second half becomes long and tedious. The dialogues could have been far better to show the complications in the characters' lives. The film may pull audiences to theatres but it may not convince!

Rating:
**1/2Author & Editor: Dolly Tilani Bhatter